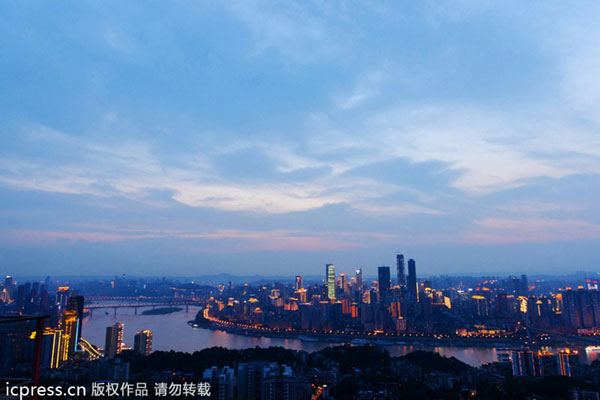 Chongqing landscape.[Photo/Icpress] 
When I drink coffee on the balcony of my spacious riverside apartment, enjoying the views of the beautiful Jialing River and distant evergreen mountains, I cannot help but wonder: will I ever go back to Beijing?
Even if I ignore the smoggy days and terrible traffic in the capital, I am still hesitating to move back if I don't have to. With my salary as a reporter, I will never afford a decent two-bedroom flat in downtown Beijing as I did in my hometown Chongqing.
Like many of the young people in the city, I am deeply attracted by the affordable housing in this southwestern metropolis, which has become one of the major reasons to work here.
Zhao Wenkai, 30, decided to find a job in his hometown Chongqing after earning a law degree at Nanjing University in 2012.
Before graduation, Zhao did thorough research on Nanjing's real estate market and found the crucial fact that his parents would have to sell everything to pay for the down payment of an 80-sqm apartment in Nanjing, where the average price is 35,000-40,000 yuan per sq m in some nice areas.
"If I want to marry a girl, I need to have a home first," the young man said. "Nanjing is too expensive."
Thanks to the effective land-control policies of local government and fierce market competition, Chongqing's average housing price has long been the lowest compared with Beijing, Shanghai, and Tianjin, the nation's three other municipalities directly under the central government.
In February, Chongqing's average residential housing price was 6,778 yuan per sq m, ranking 24th among 31 major Chinese cities, according to real estate market data provider cityre.cn .
In comparison, the price was 35,022 yuan per sq m in Beijing, 29,654 yuan per sq m in Shanghai, and 14,096 yuan per sq m in Tianjin.