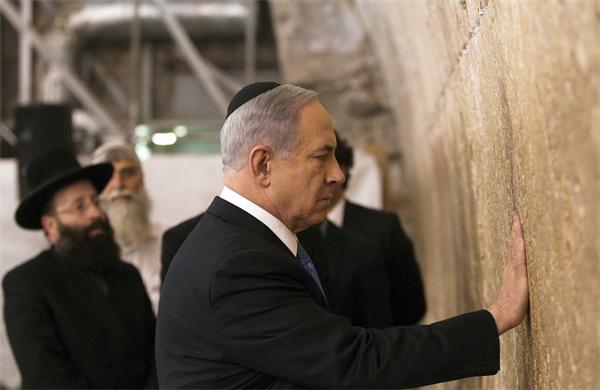 Israel's Prime Minister Benjamin Netanyahu touches the stones of the Western Wall, Judaism's holiest prayer site, in Jerusalem's Old City March 18, 2015. [Photo/Agencies]
Israeli Prime Minister Benjamin Netanyahu won a surprise victory in last week's parliamentary elections and will soon form a government for his fourth term. For many international observers, however, the election result does not bode well because it has further dimmed hopes for restoring peace in the Middle East.
The victory of Netanyahu's right-wing Likud party and its allies suggests Israeli society has become even more conservative and right leaning. This could embolden Netanyahu to push for hard-line policies, including building Jewish settlements on occupied territories, which, in turn, would further vitiate the political atmosphere in the region and deal a deadly blow to the already stalled Israeli-Palestinian peace talks.
In fact, during his previous terms, Netanyahu's hard-line policy toward Palestinians contributed much to the peace talks stalling. The continued building of Jewish settlements over the past years led to the collapse of two rounds of Israeli-Palestinian peace talks brokered by the administration of US President Barack Obama, first in September 2010, then in April 2014.
Yet there have been signs both before and after the election that Netanyahu is determined to toughen his stance. To woo right-wing voters, Netanyahu announced before the elections that there would be "no Palestinian state" if he was re-elected. He also promised to continue building Jewish settlements in the West Bank and East Jerusalem, where the Palestinians seek to build their own state.
These remarks show the Israeli leader is not sincere about resolving the Israeli-Palestinian conflict. His controversial statements have not only infuriated the Palestinians further but also angered the Obama administration and strained US-Israel relations, which were already under stress. In an interview with the US media last week, Obama criticized the Israeli leader's tough stance on Palestinians and said Washington was "evaluating" options for peace in the region.