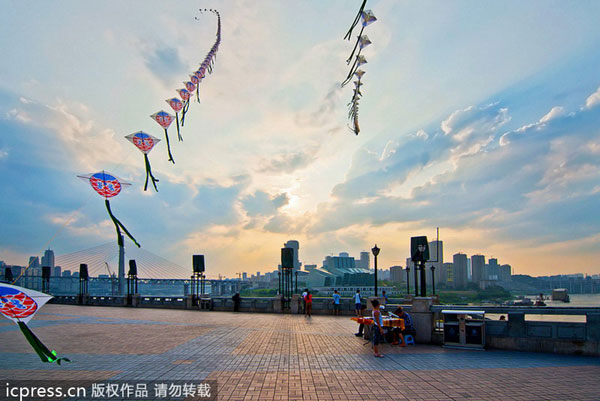 Chaotianmen Port in Chongqing. This is where the Jialing River meets the Yangtze River. [Photo/Icpress] 
But Chongqing people are making no less money than those in other cities. The 2014 annual average disposable income of western municipality residents was 25,133 yuan, ranking12th of the 31 major Chinese cities, statistics from the Chongqing government website show.
"The affordable housing is one of the best things for the people in Chongqing where the dream to have our own home is within our reach," said Mao Yabin, a lecturer at Chongqing University. The young man from neighboring Hubei province has lived in Nanjing and Ningbo before settling down in the city.
As many young Chinese graduates begin to choose to work in more affordable cities, I have noticed something similar in the United States.
When I was working in Washington DC back in 2011, I once visited Atlanta and interviewed its mayor Kasim Reed.
Boasting of "irreplaceable" transportation networks in the air, railroads and highways, as well as pleasant weather and relatively low living costs, the city is a popular destination for the well-educated young, the mayor told me.
"We are the No 1 city in the US for attracting college students aged between 24 and 35," Reed said.
This is true. My graduate school classmate Grace used to work in Atlanta as a reporter. When she was assigned to a more senior post in DC, one of the most expensive cities in the US, she was really reluctant to move.
Here comes the question again: Is a small shabby flat in Beijing really better than a modern fancy apartment in Chongqing?
The author is China Daily Chongqing Bureau chief.