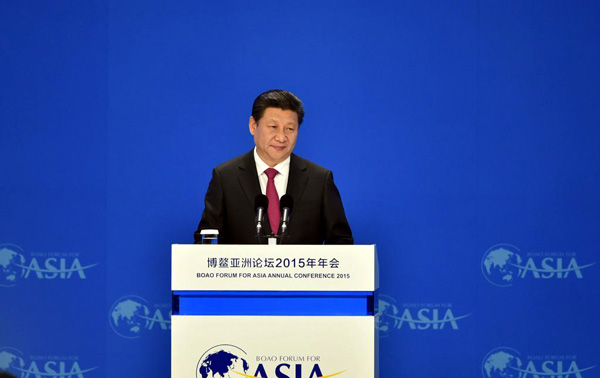 Chinese President Xi Jinping addresses the opening ceremony of the Boao Forum for Asia on March 28, 2015. [Photo/Xinhua]
Inclusiveness may be the most appropriate word to summarize what President Xi Jinping tried to convey to the world in the speech he delivered at the opening of the Boao Forum on Saturday, as it underlies all the strategic moves China has initiated as a responsible power for regional and world development.
Being a big country, Xi said, means more responsibility for regional and world development rather than a monopoly over regional or world affairs. Whether by means of the Asian Infrastructure Investment Bank or its "Belt and Road" initiatives, China is trying to fulfill its responsibility to promote regional and world economic development.
As Xi explained, the Silk Road Economic Belt and the 21st Century Maritime Silk Road initiatives are not just China singing solo but a real chorus comprising all countries along the routes. The initiatives are not meant to replace the existing regional cooperation mechanisms, instead they are to make it possible for the development strategies of countries on the routes to complement and support each other.
Xi said that both the "Belt and Road" initiatives and the AIIB are open to all, and countries along the routes, all Asian countries and countries from the rest of the world are welcome to join.
Some may interpret these strategic initiatives as China's attempt to establish a new global order, but when looking at what these initiatives will bring to regional economic cooperation and the economy of the countries involved, it is not hard to see how narrow-minded such interpretations are.
China is looking at the world and at what it can do to make the world better with an inclusive mind. Just as Xi said in his speech, China will not sway in its determination to maintain its peaceful development, its desire for common development and its policy of furthering cooperation in the Asia and Pacific regions.
It is not important how some countries feel about China's strategic initiatives. It is important how these initiatives will facilitate China's cooperation with its neighbors, in particular, and with the rest of the world. It is important that the increasingly extensive cooperation brought about by such initiatives finally brings economic prosperity and social progress to more countries and more people.
With its inclusive approach, China is not afraid of its initiatives or policies being misinterpreted. As long as it maintains its peaceful development approach and its principle of cooperating with all countries on an equal basis, what it pursues will prove to be popular with an increasing number of countries.