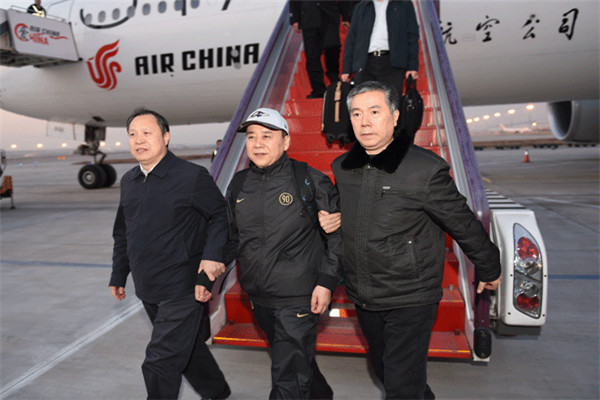 A former high-ranking official on run arrives at Beijing Capital Airport on Dec 22, 2014, after he turned himself in to the police. [Photo/Website of Central Committee for Discipline Inspection]
The anti-corruption campaign started by the current leadership of the nation about two years ago has met some questioning voices recently, alleging that too many officials have been involved, the Party's image has been blackened, and Xi's endeavor is useless because greed is just part of human nature.
These three fallacies, whether they stem from ignorance or the malicious intentions of their advocates, must be corrected, because their deceptive discourse may lead some people astray. The fight against corruption is an important self-correction and self-adjustment of the Party, which makes the operation of China's governing bodies more efficient, so as to fit the fast development of the economy and society.
That more than 100,000 civil servants, including nearly 60 senior officials above minister level, have been removed from their positions, investigated or prosecuted justifies the necessity and urgency of the anti-graft endeavor initiated by President Xi Jinping and his colleagues, who are determined to replace the former rule of power with the rule of law.
The rule of power fattens a few, while the rule of law benefits all, including civil servants, who will have a clear set of codes to live by, instead of racking their brains to fathom their superior leaders' wishes.
The house sweeping will make the Party clean and tidy. The Party's image will be improved, along with its vitality and popularity as the campaign deepens.
Those promoting the three fallacies apparently side with the corrupt officials or those civil servants who have become used to enjoying privileges and profits from their power. These skeptics apparently underestimate, even if unintentionally, the central authority's determination to deepen the fight against corruption, a fight that actually has no end.