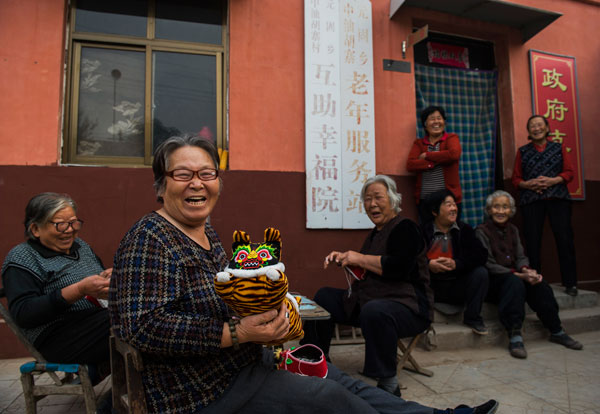 Residents of a home for the elderly in Feixiang county, Hebei province, share a laugh. China's pension system faces pressing challenges as the number of people of working age continues to fall. Pan Songgang / For China Daily
A public debate has been raging on the retirement age ever since the Third Plenum of the 18th Communist Party of China Central Committee in November 2013 suggested a progressive retirement age policy. The authorities want to raise the retirement age to fill up the financial gap in the old-age pension fund and increase labor supply to cope with the rising aging population.
But raising the retirement age simply to fill up the financial gap in the pension fund is unjustifiable, because in the final analysis the government is responsible for pension insurance. Also, the gap in pension fund is the transition cost that the government has to pay for the pension reforms that started in the early 1990s. And if the government asks grassroots workers to share the cost of this historical debt, it will not only wreck their lives but also undermine its credit.
According to a 2014 Chinese Academy of Social Sciences' report on pension fund, recessive debt under urban workers' pension fund system reached 86.2 trillion yuan ($13.9 trillion). And Zheng Bingwen, director of World Social Insurance Research Center at the Chinese Academy of Social Sciences, says that by increasing the retirement age by every one year the government could cover up to 20 billion yuan in the pension fund gap.
But raising the retirement age alone cannot fill up the huge gap in the pension fund. And although the global practice is to raise the retirement age to meet the challenges thrown up by an aging population, in China, other issues also need to be considered, including medical services.
To begin with, World Health Organization figures show that in 2012 Chinese people's average life expectancy was 75 years, but they were expected to lead a healthy life only up to the age of 68 years. So before raising the retirement age, there is need to improve the environment, public hygiene, and food and labor safety to ensure that people live healthily all their life.