As people flock to take up skiing in ever-increasing numbers ahead of the 2022 Winter Olympics, demand for quality resorts has also sky-rocketed. Xu Lin reports.
More and more Chinese are itching to try their hand at skiing, and experience the breathtaking winter sport for the first time - and especially with their families.
With Beijing and Hebei province's Zhangjiakou co-hosting the 2022 Winter Olympics, this trend is expected to grow exponentially. And this is gaining the attention of both overseas and domestic resort operators who are keen to get into this emerging market.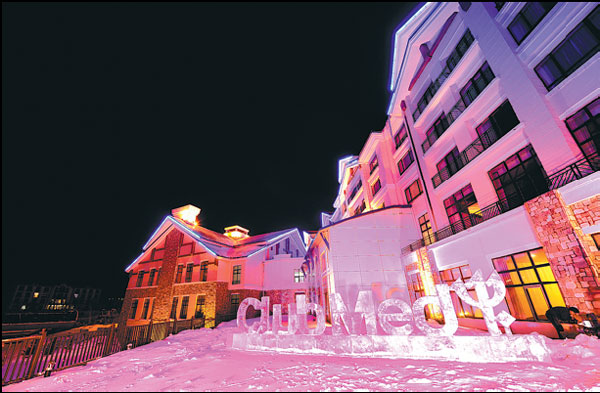 In recent years, China has witnessed an increase in the number of ski resorts, drawing more people to take up the winter sport. Photos Provided to China Daily
According to the 2016 China Ski Industry White Book, more than 11.33 million Chinese went skiing last year, with an average time on the slopes of 1 hour 20 minutes. Beijing, Heilongjiang, Hebei and Jilin had the most number of skiers, while the number of ski resorts in China grew to 646, with 78 new resorts opening in 2016.
"Skiing and snowboarding holidays are still a niche market in China, but more and more Chinese have been taking to the slopes in recent years, thanks to the increasing number of ski resorts," says Sebastien Portes, general manager of Club Med Hong Kong and Macao.
Based in France, Club Med currently operates two ski resorts in China at Yabuli in Heilongjiang province and Beidahu in Jilin province. With snow resorts in 22 destinations around the world, Club Med is famous for its all-inclusive holiday packages.
During the recent World Winter Sports (Beijing) Expo, Club Med and travel website TripAdvisor co-released the 2017 Chinese Ski Insights Survey, to raise awareness of skiing and snowboarding in China and look into the latest trends and habits in winter sports.
Among the 3,357 respondents to the survey, 62 percent had previously skied, while 60 percent said they were willing to do so again within the next three years. For respondent's most recent ski experience, 37 percent said they had visited another city to ski, while 18 percent said they had traveled to overseas destinations such as Japan, South Korea or Switzerland to do so.
While first time skiers were most concerned about safety when choosing a venue, those who had skied more than 10 times cared most about the size of the ski slopes and their steepness and difficulty.
As for choosing a ski resort, respondents' top considerations were the immediate accessibility of the ski slopes from the hotel, the reputation of the resort online, and the hotel services on offer.
Respondents mainly went skiing with friends, with their partner and children, or just with a partner. For more than half of them, the average spending per person was 1,000 to 5,000 yuan ($152 - 760).
Many of those surveyed cared about how they look when skiing and considered ski suits, gloves, sunglasses and goggles important to improving their style.
"We're planning to have more ski resorts in China. This study will help us better understand the Chinese market, while offering insight into how we can adapt to people's habits and demands," Portes says.
For example, Club Med plan to recruit more international ski instructors to ensure the safety of their customers. As Chinese customers like to have easy access to ski venues, they will consider establishing new resorts closer to big cities.
Meanwhile, the skiing industry in Zhangjiakou's Chongli district has been booming in recent years, attracting increasing numbers of tourists with its ski resorts, fresh air and convenient transportation links. More and more Beijingers are buying houses there.
Most of the skiing and snowboarding events scheduled for the 2022 Winter Olympics will be staged in Chongli, a poor area in the past.
Official data shows that during this year's Spring Festival, more than 259,000 tourists - or twice the population of the district - visited Chongli.
With the completion of a highway and high-speed rail link between Beijing and Chongli in 2019, it will take about just over one hour by car or by train for those who travel between the two cities.
"I like Chongli very much because I can enjoy skiing in winter and cool down on holiday in the summer," says Guo Dandan, 37, China's first freestyle skiing world champion.
"It's important to build Chongli as an all-season destination. For example, in summer, they can hold events such as concerts, or go cycling and camping. Also, ski resorts should offer decent services, such as delicious food and good accommodation," she says.
Opened in December, the Fulong Four Seasons Town in Chongli consists of a 750,000-square-meter ski venue, hotel clusters, hot springs and a commercial street.
According to Fan Xiaogang, assistant president of Fulong Holdings Ltd, the traveling habits of Chinese tourists is shifting from traditional sightseeing to vacation and leisure. Most tourists travel with their families. For those from big cities, they like to visit places that have easy access, natural landscapes or a unique culture.
"We're making ski resorts that provide a diversified experience such as sports, music and culture so that all family members can enjoy themselves. Our target customers are families and we pay a great deal of attention to children. Children can enjoy many colorful activities besides skiing," he says.
Fulong Holdings recently signed strategic agreements during the recent Beijing expo and announced that the town will be home to China's first Bricklive Center. Especially for Lego fans, the center will help teach children through entertainment and cultivate their creativity.
It will also work with Milan's Kids Design Week to establish an exhibition area to showcase global artworks and strengthen interactions between parents and children.
Contact the writer at xulin@chinadaily.com.cn