The sector has grown rapidly as filmmakers developed and embraced new techniques and subject matter, as Xu Fan reports.
The rapid development of China's movie industry in the past five years has seen the number of silver screens rise to 49,000, the highest in any country, according to Zhang Hongsen, vice-minister of the State Administration of Press, Publication, Radio, Film, and Television.
From The Taking of Tiger Mountain to Operation Mekong to Wolf Warrior 2, China has seen a surge in domestic blockbusters, and the achievements have attracted attention across the globe, he said, speaking at a media briefing during the 19th Communist Party of China's National Congress.
According to the State-owned online movie news portal 1905, the latest figures show that there are 8,260 cinemas nationwide.
Between Jan 1 and Oct 16 box-office takings topped 46 billion yuan ($7 billion), and industry observers predict that the figure will rise to 55 billion yuan by the end of the year, signaling stable, continuous growth from 2012, the year China's movie industry underwent two pivotal changes.
The first was China overtaking Japan to become the world's second-largest movie market, while the second was the administration's decision to raise the annual quota of foreign movies - usually Hollywood blockbusters - from 20 to 34.
In addition, Lost in Thailand, a comedy by actor-turned director Xu Zheng, was China's highest-grossing movie in 2012, becoming the first film in the history of Chinese cinema to make more than 1 billion yuan and ushering in a new era for domestic blockbusters.
So far this year, 13 homemade movies have taken more than 1 billion yuan and the number is expected to rise by the end of December.
Box-office boost
Figures from the administration show that the annual box-office take rose to 49 billion yuan last year from 17 billion yuan in 2012, signaling average year-on-year growth of 30.35 percent.
Chinese are also more willing to head to movie theaters now than they were five years ago; annual visits rose to 1.37 billion last year from 466 million in 2012.
Homemade films have now dominated box-office takings for three successive years.
Following the success of Monster Hunt, which beat the Hollywood hit Furious 7 to top box-office earnings in 2015, The Mermaid made by Stephen Chow, Hong Kong's "king of comedy", more than doubled the box-office revenue of Disney's Zootopia to become the most successful movie in China last year.
In addition, the homemade Special Forces-themed action movie Wolf Warrior 2 is now the highest-grossing film in Chinese movie history, with box-office receipts of 5.68 billion yuan.
"Chinese movies have gained unique influence and power thanks to the rapid development of the movie industry (in the past five years)," said Zhang at an earlier meeting in Qingdao, Shandong province.
He added that China may overtake the United States, or even the entire North American market (the US and Canada), to become the world's biggest movie market by 2019.
Rise of domestic titles
For many industry insiders, filmmakers and decision-makers, the rise of domestic blockbusters is reflected in a number of ways, including a wider list of genres, bigger budgets and higher-quality production values, scripts and acting.
Jiao Hongfen, president of China Film Group Corp, the largest State-owned studio, said the development of the domestic movie industry accords with the country's economic rise.
"Now Chinese people are leading better lives they look forward to seeing more-interesting stories on the big screen," he said.
As a greater number of foreign hits enter the Chinese market, local moviegoers are becoming more discerning. Last year, 90 foreign movies were shown in China's movie theaters, a rise of 45 percent, compared with 62 in 2015.
Moreover, a number of major Hollywood "tent poles" - movies that support a studio's less-successful works - have been released in China.
Fresh perspective
The pressure exerted by powerful rivals overseas has resulted in changes to homemade movies, especially those with traditional themes.
The Taking of Tiger Mountain, a 2014 movie by Hong Kong director Tsui Hark about a Communist Party agent's crackdown on a group of ruthless bandits in 1947, is widely seen as a pioneering work that signaled profound changes to stereotypical "revolutionary movie" genre.
In the past, it was rare for filmmakers from outside the Chinese mainland to make these revolutionary movies, mainly because they knew very little about the history of the Communist Party of China. Moreover, auteurs from overseas were rarely interested in unrealistic portrayals of the main protagonists, who were usually depicted in black-and-white/good-and-bad terms.
By contrast, The Taking of Tiger Mountain won acclaim for successfully combining dazzling action scenes, star power and Hollywood-style twists in a fundamentally Chinese tale.
Similar cases include Operation Mekong, based on the true story of the murder of 13 Chinese sailors by a drugs ring in Myanmar, and The Founding of an Army, which relates the early history of the People's Liberation Army.
In Operation Mekong, Hong Kong director Dante Lam provided nuanced, human depictions of Chinese police officers, while in The Founding of an Army his fellow Hong Kong filmmaker Andrew Lau uses a cast of pop idols and eye-popping battlefield scenes to attract the younger generation.
Hong Kong influence
Miao Xiaotian, general manager of China Film Co-Production Corp, said Hong Kong movie talent has played a significant role in boosting the industry on the mainland.
"Hong Kong filmmakers started to come to shoot films in the mainland in the 1990s. Their long experience and skill at making commercial movies, such as in action choreography and storytelling, make their works stand out," he said.
Although he noted that Hong Kong-mainland coproductions have been more commercially successful than collaborations between studios on the mainland and overseas outfits, joint ventures with foreign filmmakers have seen rapid growth and a number of changes, from the use of Hollywood stars to foreign post-production crews.
In recent years, sci-fi movies, one of Hollywood's most profitable genres, have experienced a surge of popularity in China, partly as a result of Liu Cixin becoming the first Chinese author to win the prestigious Hugo Award for science fiction in August 2015.
Liu's success sparked enthusiasm among Chinese filmmakers, with the result that more than 80 sci-fi projects were slated to start later the same year. Before 2015, the number was zero.
Contact the writer at xufan@chinadaily.com.cn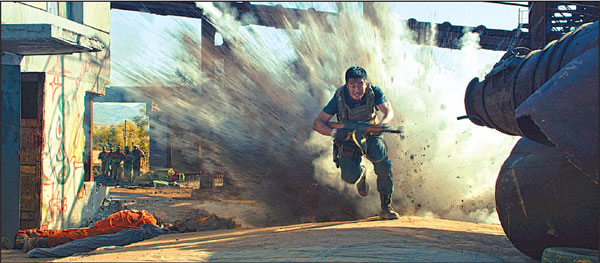 Wolf Warrior 2 is the highest-grossing film in the history of China's movie industry, with box-office receipts of more than 5.5 billion yuan ($830 million).Provided To China Daily