Nie Jing, 35, is a Wuhan native and CEO of wxiao, an app developer specializing in services for middle and primary schools. With a bachelor's degree from Huazhong University of Science and Technology and a master's degree from the University of York in the United Kingdom, he opted to work in Beijing in 2007 and then started his own business in the capital in 2010. He chose, however, to go back to Wuhan in 2015 because of the favorable conditions for entrepreneurship there:
After working in Beijing for eight years, I had been married, had my child and led a stable life. When I joined an activity of Chu's Back Home, a talent-introduction campaign named after Hubei's ancient name Chu and mainly aiming at Hubei natives, in 2015, I was attracted back to Wuhan as I found it a far more suitable place for startup companies.
There are abundant resources in Beijing. These resources, however, are highly concentrated. Most opportunities to enjoy these resources are monopolized by big companies. Seldom can startup companies get them.
Meanwhile, we had to establish our office in expensive commercial complexes. We could choose enterprise incubators, if not an actual office in these complexes, but the problem is we had to move again and again as the company expanded.
In stark contrast, we enjoy great cost advantages in Wuhan and various support and preferential policies the local government has offered.
My 500-square-meter office, for example, is offered by the Wuhan government. We got a rent subsidy for the office for two years. It's in a good location and is only minutes away by foot from the subway station.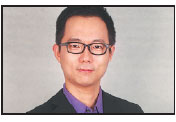 With three train stations, the city also boasts a developed transport network. We don't have to leave as early as we did in Beijing as the subway is not that crowded and road traffic is not that bad.
Our current office is big enough and there is no need to change locations as we develop. The coffee shop downstairs offers us a good place to meet and talk with our clients. There is a big conference room upstairs, where we train employees and give presentations to our clients to demonstrate our products. Moreover, there is also a gym in the building.
We have to make contact with junior high schools and primary schools for our business. In Beijing, we may have been able to persuade 10 schools to use our app in one year. In Wuhan, it's possible to get 100 schools as clients a year.
Currently, we have developed 12 apps, which cover 5,000 schools and have more than 1 million users.
It's easier to recruit in Wuhan as well. We mainly turn to on-campus recruitment for new blood. Universities in Beijing charge enterprises a lot for on-campus recruitment.
In Wuhan, as long as we communicate with universities in advance, startup companies like mine could also be arranged suitable times and location. Some universities, for example Central China Normal University, even charge nothing and also offer free drinking water and other services.
More and more people are coming back to Wuhan. When I graduated from Huazhong University of Science and Technology in 2005, only two of my 33 classmates chose to work in Wuhan. Now, one third of them have returned.
Contact the writers at houliqiang@chinadaily.com.cn