HANOI - On a summer afternoon in Vietnam's capital, Hanoi, the audience watches colorful puppets in the form of a farmer, fish, fox or dragon plowing a rice field, swimming, climbing a tree or puffing fire and smoke on the surface of water with no sign of handlers or equipment.
While many traditional performing arts are facing extinction, water puppetry, which dates back nearly a millennium, has become increasingly well-supported both domestically and abroad as a distinctive art form in Vietnam.
The surface of a pool of water is the performance area, which serves not only to hide the puppeteers and the puppets' strings but also to create a reflective stage providing natural amplification for the singing puppeteers accompanied by percussion music and firecrackers.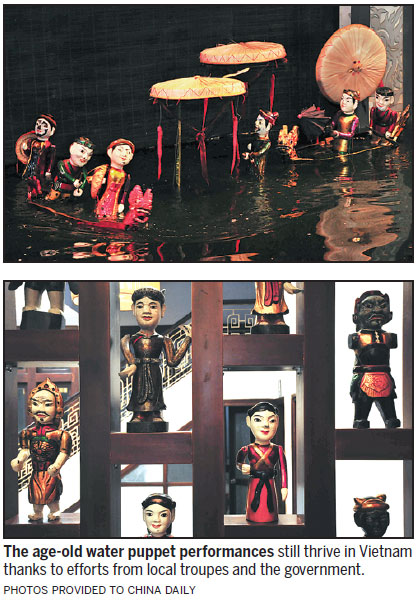 The stage, constructed of bamboo, resembles a traditional village's communal house where villagers gather for important events.
Because of its special stage, this art also needs unique "actors". The puppets range from 28 to 45 centimeters and are usually made from the wood of fig trees, which is light and tough.
The figures are then painted with seven layers of waterproof paint.
The plays generally use a selection of some 30 traditional repertoires, which include Teu dancing, buffalo fighting, plowing, duck tending, fox hunting, boat racing, dragon dancing and chess playing - all of which reflect either daily agricultural life or the wars of national heroes against foreign invaders.
When the curtain is raised, the stock character, Teu - the village buffoon with a plump body and a humorous smile - enters the stage in an unfastened shirt showing his round belly and introduces the play with a song.
After that, he sets off a string of firecrackers. Then the main play begins: An old fisherman is sitting in a boat dropping his line into the water and a fish rises to the bait and squirms, or a little boy sits atop his buffalo and plays the flute.
"The show has given me a better understanding of the cultural relationship between the people and waterways here," says Naomi Liner, an Australian visitor in Hanoi.
Behind the stage, puppeteers, both male and female, stand waist-deep in the water, manipulating the puppets on the water's surface through a complicated system of long strings and long poles below the waterline.
Some puppeteers from the Thang Long Water Puppet Theater in Hanoi say that they often drink hot water and apply mashed ginger to their half-submerged body when the outside temperature dips below 12 C.
Some Vietnamese water-puppet troupes have a repertoire named Vo Tong da ho (Wu Song Fights a Tiger). Wu Song is a fictional character in Water Margin, one of the four great classical novels of Chinese literature, who kills a tiger with his bare hands.
The traditional art has proved popular with tourists. Thang Long Water Puppet Theater says that its 250 seats are full every day.
However, maintaining the tradition is not as easy.
"We are experiencing financial hardship. Our puppeteers have to do extra work to make ends meet," says Nguyen Dang Dung, head of the Dong Ngu Water Puppet Group.
Recently, the top leader of Bac Ninh has assigned the provincial Department of Culture, Sports and Tourism to build an overall plan to develop Dong Ngu water puppetry, which was born in the 11th century.
Local authorities in Hanoi's Dong Anh district, home to Dao Thuc Water Puppet Group, are also seeking ways to maintain and develop this art.
"We are recruiting and training young puppeteers. Young people will make use of information technology more easily and conduct promotion campaigns more effectively," says Ngo Minh Phong, head of Dao Thuc Water Puppet Group.
Thang Long Water Puppet Theater, the most developed professional puppet group, also went through difficulties in the late 1980s when video and TV became common.
Thanks to its tireless efforts to revive the art, the theater performed monthly, then weekly and daily, with five performances a day now. The theater conducts over 2,000 performances a year, on average, introducing water puppetry to over 50 countries.
Xinhua