CIMC-TianDa's products that help fliers board aircraft target US, the next frontier
Shenzhen CIMC-TianDa Airport SupportLtd, or CIMC-TianDa, China's largest provider of air bridges, has a presence at most airports in the form of prefabricated, carpeted, brightly lit retractable, movable tunnels on wheels that connect the terminal lounges and aircraft entrance/ exit doors for passengers to embark and disembark.
The company had gone global in recent years, and already commands about 50 percent of the global market share. This year, it will march into four to five overseas destinations, with the United States, what it believes is "one of the most difficult markets in the world" , as its primary target.
"In recent years, we have successfully entered four to five overseas markets on average each year," Zheng Zuhua, chairman of CIMC-TianDa, said.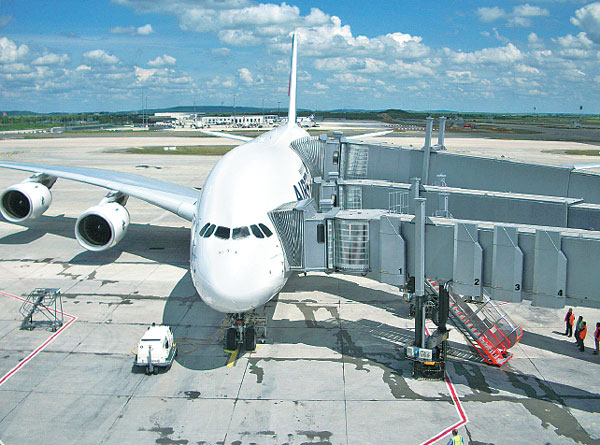 A boarding/exit bridge, provided by Shenzhen CIMC-TianDa Airport Support Ltd, at the airport in Milan, Italy. Provided to China Daily
"We're going to keep up that pace this year and further expand our international business."
A subsidiary of China International Marine Containers (Group) Ltd, CIMC-TianDa launched its first product in 1990. It has so far provided more than 5,000 air bridges to over 250 airports in nearly 70 countries and regions.
"Our passenger boarding bridge business has grown at an average of more than 10 percent annually over the past years. Last year, we secured total orders worth more than 600 million yuan($87 million) from overseas," Zheng said.
The company can fulfill international orders for more than 200 air bridges annually, he said.
Currently, Europe is CIMC-TianDa's biggest export market, where its products widely cover hubs and regional airports in France, Spain, Italy, the Netherlands and other countries.
The Middle East comes second with 20 percent share of exports, followed by Africa with 15 percent.
"The African market is developing very fast - about 20 percent annual growth," Zheng said.
South America, Zheng believes, has great potential for development, given the ongoing lifestyle consumption upgrade, which is creating more demand for aviation.
The company recently secured an order for supply of more than 50 boarding bridges worth 130 million yuan from Chile's Santiago International Airport, the biggest such deal in the South American market.
"Chinese manufacturing has been gaining more and more recognition from foreign countries. Not only do we have more advanced technology and better services, we are also more flexible," said Zheng.
"When new demand emerges, we put more investment in research and development and are able to come out with products that meet customers' new and personalized demand."
For instance, the company has developed an intelligent boarding bridge that can complete the whole docking process with arriving aircraft automatically, helping air-ports reduce human resource cost and improve safety. Currently, most airports use bridges that require manual operation.
"Manufacturing of boarding bridges requires a large amount of workforce. In this aspect, Chinese companies have cost advantages," Zheng said.
The US, with around 500 commercial airports, is the world's largest market for boarding/exit bridges.Despite CIMC-TianDa's success in European and other markets, Zheng admitted that the US market is a major challenge.
"The US is one of the most difficult markets in the world for us to tap into, due to its protectionism. It requires that 60 percent of the manufacturing be made locally.
"But we are determined to tackle the difficulty, and are developing a pragmatic strategy to enter the US market. Progressive goals have been set to achieve a breakthrough in the US market this year.
"With our high-quality products and services, and also years of market experience, I'm confident that we can achieve the goal," he said.
Zheng also said the Belt and Road Initiative, proposed by President Xi Jinping in 2013 with the aim of strengthening international connectivity and trade, will bring more business opportunities to the company.
Li Hang, an associate professor at the Economics and Management College of the Civil Aviation University of China, said apart from improving the product itself, boarding bridge providers should also think more about how to increase its usability, such as satisfying aircraft's need to save energy.
Technological innovation would help further enhance global competitiveness, Li said.
According to a 2016 report by research firm Markets and Markets, the global boarding bridge market is projected to grow from $750 million in 2016 to $1.08 billion by 2021, representing an annual growth rate of 7.5 percent.
sally@chinadailyhk.com