A pair of Chinese panda cubs arrived in the Netherlands on April 13 and will stay there for joint scientific research and breeding for 15 years.
Brought up at the base of China Conservation and Research Center for the Giant Panda in the Wolong National Nature Reserve in Wenchuan county, Sichuan province, Xing Ya, male, and Wu Wen, female, are both 3 years and 8 months old.
They were board a Dutch plane in the Shuangliu International Airport in Chengdu, Sichuan province at 2:35 pm on April 12 and arrived at Amsterdam Airport Schiphol at 1:05 am on April 13.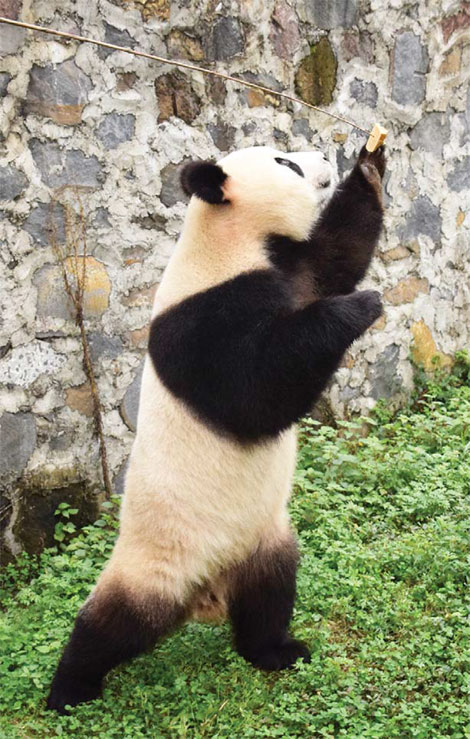 Xing Ya, a 3-year-old male panda, is one of the pair of Chinese panda cubs that will live in the Netherlands. Provided to China Daily
Xing Ya likes climbing trees while Wu Wen is gentle as a "girl", says Hu Zhengquan, a keeper in the panda center.
"Xing Ya has a big appetite and feasts on 40 kilograms of bamboo, 5 kg of bamboo shoots, 500 grams of carrots and 100 g of apples a day. He can finish his food long before Wu Wen," Hu says.
Both cubs will live at Ouwehand Zoo in Rhenen, a small city of about 20,000 people in the Netherlands.
The Dutch zoo, with nearly 500,000 visitors each year, has built the most luxurious panda house in history for the two cubs, according to Qiu Yu, a center representative.
With an investment of nearly 7 million euros ($7.43 million; 5.95 million), the panda house named Pandasia covers 9,000 square meters and looks like an ancient Chinese palace. It consists of areas for the cubs to sleep and play, for their future babies to live and a clinic.
The two cubs' five Dutch keepers have been trained in the panda center. The pandas are sure to get used to their new home in the Netherlands, as the species has a strong ability to adapt to new environments, says Zhang Hemin, a leading panda expert in the center.
Residents of Rhenen are waiting eagerly for the arrival of the little superstars.
Cakes with the image of pandas and panda-shaped candies can be found in local pastry shops. Supermarkets and streets are decorated with panda dolls and posters.
"It is the first time two pandas have headed for a foreign country from Wolong since the Wenchuan earthquake in 2008," Qiu says.
A magnitude 8.0 earthquake destroyed the base in Wolong. It has been rebuilt with financial support from the Hong Kong Special Administrative Region government.
The center has established ties for research with 13 zoos in 11 countries, sending 28 pandas abroad, Qiu says.
huangzhiling@chinadaily.com.cn