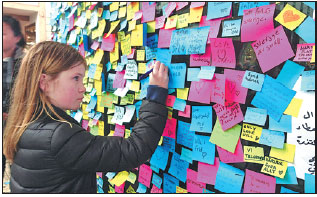 A girl writes a message on the memorial wall following Friday's attack in Stockholm, Sweden, on Monday.Philip O'connor / Reuters
STOCKHOLM - Sweden's Prime Minister said on Monday the country would never yield to terrorism, as he led a minute's silence for those killed and injured when a truck driver mowed down pedestrians on a Stockholm shopping street.
Four people died and 15 were hurt in Friday's attack, the first of its kind in the country.
"We will never surrender to terror," Lofven said in his speech outside Stockholm's city hall, as flags flew at half mast across the capital and church bells chimed while shoppers and tourists thronged the city center.
Police are holding a 39 year-old Uzbek man who they believe was the driver of the hijacked beer truck that crashed into a department store, leaving death in its wake.
The suspect had been denied permanent residency in Sweden and expressed sympathy for Islamic State group.
The attack shattered any sense Swedes had of being insulated from the militant violence that has hit other parts of Europe, raising questions about whether - in a society that takes pride in tolerance and liberal values - the police and security services could have done more to prevent it.
"I am not afraid to go to the city. But you never know, you never know (what can happen)," said Sankar Ramasuppu, a bank worker living in Stockholm.
Many Swedes were back at work for the first time since the attack, while the department store into which the truck slammed had already reopened.
Standing outside the building with tears in her eyes, Parima Khazai, who runs a skin therapy company in the city, recalled a lucky escape.
"I was supposed to be here at the time (of the attack) because I had to return something. But a friend wanted to take a coffee so that meant that both of us didn't end up here on the street," she said.
Sweden has long been known for its open-door policy toward migrants and refugees. But after the country of 10 million took in a record 163,000 refugees in 2015, the government has tried to be more selective about which newcomers it allows to stay.
Meanwhile, security officials in neighboring Norway, where a 17-year-old asylum-seeker from Russia was detained on Sunday in connection with an explosive device found near a busy subway station, spoke of the alarming potential for a copycat effect.
The country has decided to raise the country's threat level, although the security agency said it wasn't clear if the teen planned to carry out an attack with the primitive homemade device police defused without any injuries. Agency head Benedicte Bjornland said it was likely the youth had been inspired by recent attacks in Stockholm, France, Germany, Britain and Russia.
"The attacks demonstrate how easy such attacks can be carried out, and prove to others that it is possible to make something similar," Bjornland said.