MADRID - Chulina, the first female giant panda cub to be born at the Spanish capital's Zoo Aquarium de Madrid, had two special visitors when she went for her first walk outside the pagoda where she has spent her life until now.
She was accompanied on her first trip outside by Queen Sofia of Spain and Lyu Fan, the Chinese ambassador to the country.
The event on Wednesday included a band playing traditional Chinese music and a group of local schoolchildren, dressed as pandas, who exhibited paintings they had made of the cub.
Chulina, born on Aug 30, made her first public appearance on Jan 12. She is the fifth giant panda cub to be born at the Madrid zoo thanks to its collaboration with the Chengdu Research Base of Giant Panda Breeding in Sichuan province.
Her name means "cutie" in Spanish but also sounds like the Chinese words for "bamboo" and "jade treasure" in Chinese.
The name is in homage to Chulin, who in 1982 became the first giant panda to be born in Madrid.
Chulin's parents, Shao Shao and Chang Chang, were given as gifts to Queen Sofia and her husband, King Juan Carlos I, on their visit to China in 1978.
Queen Sofia was enchanted by the giant pandas and became one of the key figures in promoting the giant panda breeding program in Madrid.
It was fitting that she should be Chulina's chaperone for the youngster's first walk outside of the pagoda.
"Giant pandas are the messengers of China's friendship to the world," Lyu recently said.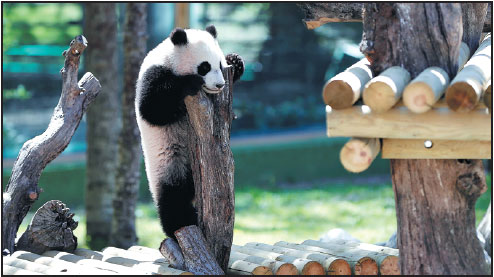 Chulina, a giant panda cub born in Madrid, Spain, in August, is put on public display on Wednesday at the city's Zoo Aquarium.Burak Akbulut / Anadolu Agency