Close scrutiny must be applied to enterprises doing deals overseas to protect nation's wealth and guard against dubious activity
Enterprises transferring assets abroad should be put under close supervision - the authorities already realize that.
Pan Gongsheng, vice-governor of China's central bank, has warned that some Chinese enterprises with a high debt ratio at home borrowed large sums of money last year to acquire overseas companies, including football clubs, and a few transferred their assets abroad under the guise of direct investment.
Previously, the government mainly blocked the hidden channels, cracking down on organizations engaged in covert transactions, to prevent the outflow of capital, and largely succeeded.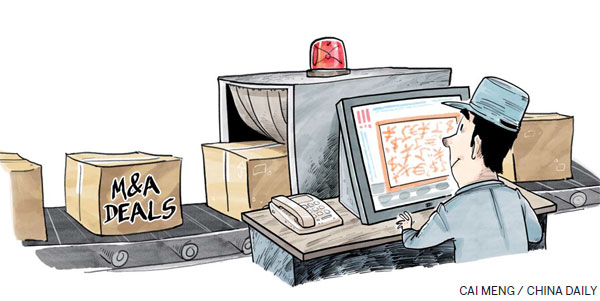 But new problems have emerged, as an increasing number of Chinese enterprises have hastened their "going-out" pace to acquire overseas companies and open more channels for transferring capital to more countries and regions.
Pan's warning highlights the seriousness of the problem, as excessive capital outflow not only leads to the loss of social wealth but also has a negative impact on overseas mergers and acquisitions. In fact, some Chinese enterprises' M&A efforts have already made foreign enterprises and investors cautious, and even prompted some foreign governments to take precautionary measures against Chinese enterprises' acquisition bids.
Complicating matters is some Chinese enterprises' poor financial capacity to strike M&A deals overseas, as they mostly rely on raising debt at home for this purpose. Some enterprises expend great energy on overseas M&A bids, despite their questionable asset-liability ratios' revealing an incapacity to safely strike such deals.
So it is up to the relevant financial agencies, mainly Chinese banks, to ascertain such enterprises' true strength before lending them money. Otherwise, they will end up helping these enterprises transfer their assets abroad while left to shoulder all the risks.
Football is as popular in China as in any other country. Some Chinese clubs spend exorbitant amounts to buy overseas players, while some enterprises invest tens of millions of dollars to buy foreign football clubs (or shares in them). Even if some of these transactions do meet market demands, they could create bubbles. It is not hard to tell the true intention of the Chinese enterprises that spare no effort to acquire overseas enterprises or football clubs despite their extremely tight capital position at home.
The Communist Party of China, under the leadership of Xi Jinping, has done a remarkable job of hunting down corrupt officials who had fled abroad. But even if the corrupt officials are caught, most of their illegally amassed wealth is difficult to recover, which is a huge loss for the country.
So the authorities must also pay attention to the flow of money today, because containing the excessive outflow of capital now is saving the country from potential losses in the long run.
Those Chinese enterprises that have the financial strength to seek M&A deals abroad should be encouraged to do so. But enterprises with unsatisfactory track records should be thoroughly scrutinized before being allowed to bid for overseas companies, because most such deals result in a flight of capital from the country.
The wealth the Chinese people accumulate at home through hard work must not be transferred abroad by dubious enterprises and corrupt officials. Therefore, the authorities must keep a close eye on debt-ridden enterprises that spend a lot of borrowed money to buy overseas companies that are irrelevant to their known business activities.
Moreover, law-enforcement agencies and auditing departments should strengthen their supervision and vigilance, and strictly monitor all overseas M&A bids - by both private companies and state-owned enterprises - to protect the country's wealth from being squandered abroad.
The author is a columnist for Beijing Youth Daily. The article was first published in that newspaper on March 22.
The views on this page do not necessarily reflect those of China Daily.