Artificial intelligence-enabled technologies should be boosted and used to address such thorny issues as tracking lost children and easing traffic congestion, Robin Li, chairman and CEO of leading Chinese search engine Baidu, said on Friday.
In his proposal to the fifth session of the 12th National Committee of the Chinese People's Political Consultative Conference, Li, a member of the CPPCC National Committee, called for preferential policies for development of AI through institutional innovation, data sharing and project support.
The proposal echoed China's push for AI research, just weeks after Baidu was nominated by the National Development and Reform Commission to lead the first national lab on deep learning, a leading algorithm of AI.
"Like the profound impact of the Industrial Revolution, today we've reached a tipping point where AI gets to bring sweeping changes to our lives, with so many achievable applications to be rolled out," Li said.
A facial recognition model should be developed to record the biological features of children to help curb the problem of lost or kidnapped children, he said.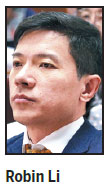 It would then be connected to a national database, where information on missing or kidnapped children could be matched with the biological features of children later found under various circumstances.
AI-backed applications could also be used to route drivers around traffic jams. An intelligent traffic light would be able to guide traffic if an obstruction was detected or likely farther down the road.
Conventional traffic lights have preprogrammed timing that is updated every few years. Li proposed developing AI-based traffic signals that could adapt to changing traffic conditions.
China has launched a three-year initiative led by the NDRC and the Ministry of Science and Technology to boost the AI industry through 2018. Under the initiative, the country aims to achieve breakthroughs in core AI technologies.
Baidu has designated AI as its business cornerstone, setting up a deep learning lab in the Silicon Valley in California, hiring AI experts and making inroads on driverless cars.
China is already in a leading position in certain AI applications, yet more attention should be paid to the most fundamental groundbreaking work, now largely dominated by US researchers, said Wang Guanchun, a former Silicon Valley expert on AI and chief executive officer of Beijing-based AI company Laiye.
"The scenarios mentioned in these proposals are quite likely to be realized, since some of the technologies are already quite mature," Wang said.
"But as AI becomes the new darling of the capital market, we should refrain from seeking short-term gains," he added.
hewei@chinadaily.com.cn