For years, Cai Jinlian in Hebei province envied her sister, Cai Jinrong, who lived a much better life than her, just 1 kilometer away in Beijing.
The two sisters grew up in the mountain village of Lishuigou in Hebei, but Cai Jinrong married a farmer about 30 years ago and moved to a village that is within walking distance of Lishuigou but administered by Beijing. She enjoys clean tap water and lives in a two-story villa.
However, Cai Jinlian, who never leaves Lishuigou, was still drinking well water two years ago and she had to pay long-distance call charges to talk with her sister. The road to her rundown bungalow is badly potholed.
But the gap is narrowing. Cai Jinlian now has running water, and long-distance fees for calls within Beijing, Tianjin and Hebei have been lifted, while her road is soon to be reconstructed.
"I heard talk about integrated development for years. To my surprise, real changes have begun to take place in recent years," Cai Jinlian said.
Cure for local ills Sandwiched between Beijing and Tianjin, geographically, Hebei lags far behind in terms of its economy and public services. In 2013, its per-capita GDP was about 40 percent that of the two cities.
Since central authorities ordered coordinated development of the Beijing-Tianjin-Hebei region in February 2014, progress has been made on transportation, industry and the environment.
The national strategy addresses unbalanced development, tackles pollution and seeks a new means of growth. It demands that local authorities abandon their old mindset and look at the bigger picture.
Hebei has extended and repaired 12 highways connecting the province with Beijing and Tianjin in the past three years, according to Zhao Kezhi, Party chief of Hebei.
In December 2015, a rail link opened between Tianjin and Hebei's Baoding, meaning passengers no longer had to pass through Beijing. And there are plans for at least 20 more intercity railways.
Hebei has been struggling to cut excess industrial capacity in steel, concrete and glass. From 2014 to 2016, it attracted investment of 1.1 trillion yuan ($160 billion) from Beijing and Tianjin, more than half its total inflow. Last year, 1,300 high-tech firms from the two cities opened in Hebei.
High-tech companies from Beijing have now set up more than 3,000 subsidiaries or branches in Hebei and Tianjin.
To control its population and address congestion, Beijing has closed 1,300 factories and moved more than 300 markets from downtown to the outskirts or neighboring areas.
A concerted effort to address air pollution has also proved effective. Concentration levels of PM2.5 - particulate matter measuring 2.5 microns or less in diameter that is hazardous to health - are down by about 33 percent compared with 2013 levels, but air pollution is still severe and smog is a frequent issue.
All coal in and out of Tianjin, the largest port in northern China, will be carried by rail starting in September, cutting diesel fumes from road haulage.
"Tianjin port will focus on container services, while Hebei will develop its bulk cargo business for steel and coal, in line with environmental standards," said Zhao Mingkui, vice-president of the port.
Efforts 'a good start'
"Clearly, Hebei is the weak link, but it also has the most potential," said Party chief Zhao Kezhi. Closing the gap involves farming out Beijing's noncapital functions, including manufacturing, logistics and wholesale markets, transforming the Beijing-Tianjin-Hebei region into a new growth pole, he said.
"The past three years have been a good start," said Wu Hequan, an academician at the Chinese Academy of Engineering and deputy head of a committee of expert consultants on the region's coordination. If concerted efforts continue to lead to tangible results, the region may outdo the Yangtze and Pearl river deltas in overall economic strength by 2030, he said.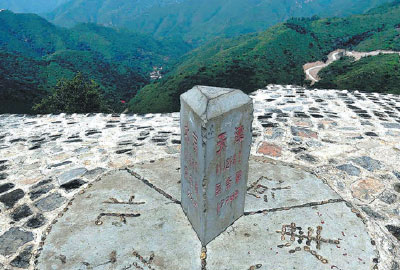 The boundary marker at the intersection of Beijing, Tianjin and Hebei. Yue Yuewei / Xinhua