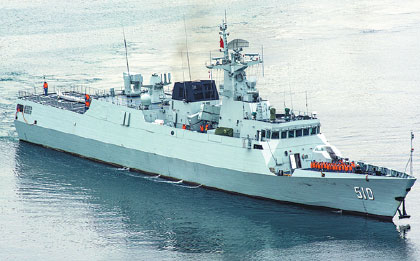 The CNS Ningde, a Type-056 class corvette, sails in waters off Dalian, Liaoning province, in November. Provided To China Daily
The People's Liberation Army Navy has commissioned its 31st Type-056 class corvette, marking a new addition to the world's largest fleet of modern corvettes.
The CNS Ezhou with a hull number of 513 was delivered to the East Sea Fleet in a naval base in East China's Fujian province on Wednesday, PLA Daily reported, saying the ship will perform coastal patrol, fishery escort, anti-submarine and anti-ship operations.
It is the second ship that has been commissioned to the PLA Navy since the start of 2017, following the CNS Kaiyangxing, a Type-815A class electronic reconnaissance ship, which now belongs to the North Sea Fleet.
The newest of the Type-056 class to enter service, the Ezhou is 89 meters long and 11 m wide and has a full displacement of 1,254 metric tons. With a maximum speed of 52 km/h, the ship features good maneuverability, a high level of automation and stealth capability, and is capable of hitting aircraft, ships and submarines, the report added, noting it can carry one anti-submarine helicopter.
In addition to the Navy, the China Coast Guard is also attracted to the fast speed and reliable self-defense capacity of the Type-056 vessels and has introduced a number of such ships, which have appeared in operations near Huangyan Island and the Diaoyu Islands, the newspaper said.
China began to build the Type-056 class around 2012 to modernize its coastal defense flotillas that were composed of the antiquated Type-037 class corvettes, which were virtually submarine chasers, and some other old patrol boats.
The first Type-056 class ship, CNS Bengbu, was delivered to the East Sea Fleet in February 2013. Before the Ezhou, a total of 30 Type-056 class ships have been commissioned for the Navy, official statistics show.
Russia has the world's largest corvette group that consists of about 80 vessels, but most of them were built in the 1980s and 1990s and cannot compete with the Type-056 in terms of technology and equipment, defense observers said, adding that the Type-056 fleet is now the biggest force of modern corvettes of all navies.
Information from IHS Jane's Fighting Ships shows a Type-056 class corvette is armed with four YJ-83 anti-ship missile launchers, a 76-mm gun, two 30-mm cannons, two triple-barreled lightweight torpedo launchers, and an eight-cell HHQ-10 short-range anti-aircraft missile launcher. The industry publication also says that some of the Type-056 class vessels have enhanced anti-submarine capabilities with towed and variable-depth sonar.
According to a ranking by the British website Naval Technology, the Type-056 is one of the world's 10 best modern corvettes along with Sweden's Visby class and Germany's K130 Braunschweig class.
Cao Weidong, a researcher at the PLA Naval Military Studies Research Institute, said despite the Type-056 class being smaller compared with frigates, it will be as powerful as frigates in battles in coastal waters thanks to its stealth design and strong firepower.
Du Wenlong, an equipment expert at the PLA Academy of Military Science, said that in addition to coastal defense, Type-056 class ships can also help with long-range operations.
zhaolei@chinadaily.com.cn