Construction will begin next year on two Beijing subway projects to connect the southeastern Tongzhou district with downtown, transport officials have said.
The Batong Line, in service since 2003, will be extended east by two stations to reach the site of the planned Universal Studio Park as well as merged with Line 1, removing the need to transfer. The work is scheduled for completion in 2019. A new route, the Pinggu Line, will also be built in the northern part of Tongzhou. When it opens, in 2020, it will carry passengers northeastward to Pinggu district.
Two other subway lines between the city center and Tongzhou, an eastbound extension of Line 7 and the new Line 17, are already under construction, according to Beijing's city transport commission.
The authority said it plans to construct more lines in the suburb, including north-south routes, with transfer distances between stations and other public transportation links reduced to about 100 meters.
Late last month, the National Development and Reform Commission, the nation's economic planner, approved a proposed intercity rail network linking Beijing, Tianjin and Hebei province. It includes a new station in central Tongzhou that will form part of the planned Beijing-Tangshan link.
Eighteen transport infrastructure projects will also get underway by the end of next year, including extensions of two highways that currently end at the city outskirts. Zhou Yang, head of Beijing-Tianjin-Hebei integration at the city's transport commission, told Beijing Daily that the projects include the upgrade or construction of trunk roads designed to "ease congestion hot spots".
"When the spots are cleared, we'll be set for building new expressways," he added.
In September transport experts from the United States, Britain, France and Germany were invited to consult on plans for developing Tongzhou. They backed the idea of improving subway services and suggested building bike lanes along the district's waterways.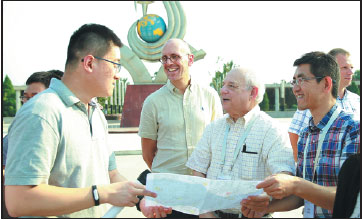 Foreign transport experts during an on-the-spot investigation of Tongzhou's development plan in September.Zou Hong / China Daily