A group of Washington state high school students who returned from the trip of a lifetime to China in October got another treat on Tuesday.
Luo Linquan, Chinese consul general in San Francisco, Chief Consul for Education Yang Jun and Consul Li Guangpeng paid a visit to Lincoln High School in Tacoma.
Luo was on a special mission, to forward a letter from President Xi Jinping to students of the school, who had returned from their 11-day trip last month.
Last September during his stop at the school on a state visit to the US, Xi gave students shelves of books, left two ping pong tables and a set of paddles and balls and surprisingly invited 100 of the students to tour China.
About 30 students who represented the 100 students, Lincoln High School Principal Pat Erwin and teachers welcomed Luo and the delegation to the classroom.
Erwin read the English version of the letter to students, a "heartwarming and great moment" according to students.
The letter, signed by Xi and first lady Peng Liyuan, said, "Young people are the future and hope of a country, and friendship between the people of our two countries needs to be carried forward by the younger generation. We hope the students will share their experience and impressions of China with people around them, so that more Americans will get to know China better."
Students also wrote a letter of appreciation to Xi, in which they wrote down their fond memories of China. They hoped Luo would forward the letter to the president.
"The influence of the trip is far-reaching and the interactions between people will continuing," Luo said.
Jackie Knight, a 12th grader, said though the life-changing experience that they got more confidence and know they can do better.
Devunce Binner, a 10th grader, said he is still emailing with the friend he made in Fuzhou and looks forward to going back to China in the near future.
Almost all of the students said they were interested in going back to China to study. Yang said the educational exchanges between the two countries will promote a better understanding and friendship between the two nations.
To qualify for the trip, students needed a minimum 2.5 grade point average and three letters of recommendation from teachers. Finally, 56 girls and 44 boys were selected and the group included sophomores, juniors, and seniors.
Xi is no stranger to Tacoma. He visited the city in 1993 while serving as Communist Party Chief of China's port city of Fuzhou and oversaw the signing of a sister-city agreement between the cities a year later.
lindadeng@chinadailyusa.com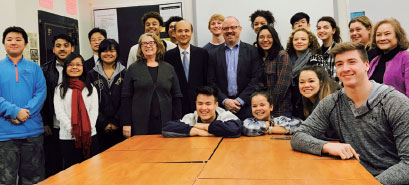 Luo Linquan (in blue tie), Chinese consul general in San Francisco and Lincoln High School Principal Pat Erwin(to right of Luo) join students after they shared their experiences touring China, at the school on Tuesday afternoon. Linda Deng / China Daily