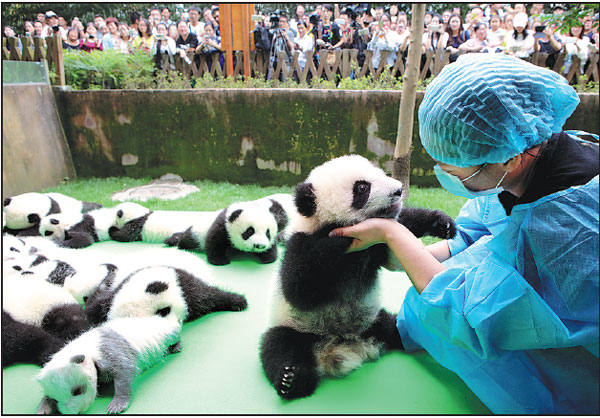 About 23 giant pandas born in 2016 are seen on a display at the Chengdu Research Base of Giant Panda Breeding on Thursday in Chengdu, Sichuan province.She Yi / For China Daily
A pack of newborn panda twins will greet visitors to the Chengdu Research Base of Giant Panda during the seven-day National Day holiday that starts on Oct 1.
"They can have a close look at the twins in the nursery and be separated from the cubs from a glass window only," according to Zhang Zhihe, chief of the center in Sichuan province.
Sixteen cubs in eight pairs of twins were born at the center this year.
"In addition to the 16 twins, seven individual cubs were born this year," he said.
In the mid-1980s, wild pandas were on the brink of extinction as the bamboo they eat blossomed, causing a food shortage. Bamboo plants die after they bloom.
Zhang's center was set up in 1987 to save six hungry and sick pandas rescued from the wild in the aftermath of bamboo blossoming. It is home to 176 captive pandas.
The rising number of captive pandas has a lot to do with techniques to change their natural reluctance to mate.
The base is making male pandas walk on two legs. The dancelike routine strengthens the pelvic and hip area and also boosts the animal's sexual stamina, zookeepers say.
In an effort to encourage breeding, the center also relies on a special odor to remind pandas of sex during the spring, when they are in heat.
"We place male pandas in the dens of female pandas and vice versa. A male panda can smell the odor left behind by the female panda, which contains information pertaining to sex and vice versa," said Fei Lisong, a senior researcher of the base.
"When they show symptoms at the same time of wanting to have sex, the base places them together in the same den. The symptoms include anxiety," he said.
The center also relies on its more senior pandas to show the way.
"We arrange lovemaking between two accomplished pandas in front of inexperienced pandas, which have never had sex. It does work," Fei said. "More than 30 percent of pandas at the base can have sex naturally, compared with only 10 percent about 20 years ago."
"The purposes of breeding captive pandas are to increase their number, save them from extinction and return them to the wild to enlarge the natural panda population," said Hu Jinchu, professor of the school of life science of China West Normal University in Nanchong, Sichuan province.
huangzhiling@chinadaily.com.cn