3. In the palm of her hand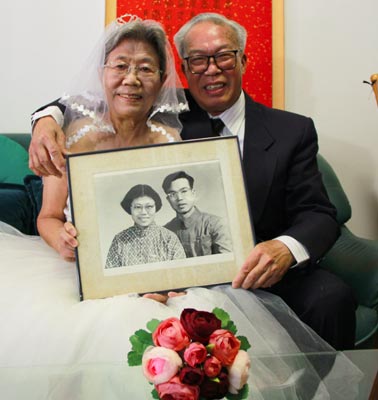 Yuan Lifu visited a fortune-teller when she was young who read her palm and told her that one day, she would meet a man she could rely on for a lifetime.
That man was Li Bingsheng, whom she met in 1958 when they were classmates at Tsinghua University. They developed crushes on each other but never expressed their affection as romance was forbidden in colleges at that time.
In 1962, they attended a dance marking their university graduation. Afterward, Li and Yuan took a stroll through the university's dimly lit corridors. "We were walking side by side and didn't talk. Suddenly she stopped, and said, 'I need to ask my uncle's opinion first'. We knew what each other was thinking about," said Li, 76.
The two married soon after and, despite both being relocated to different cities and living apart for decades, they say they have felt a close affinity to each other throughout their lives. Li recently collected pictures of their shared life journey spanning nearly 80 years and made them into a slideshow.
"I'm lucky to have met the person destined for me in the palm of my hand," Yuan said.