Shanghai favorites served up in style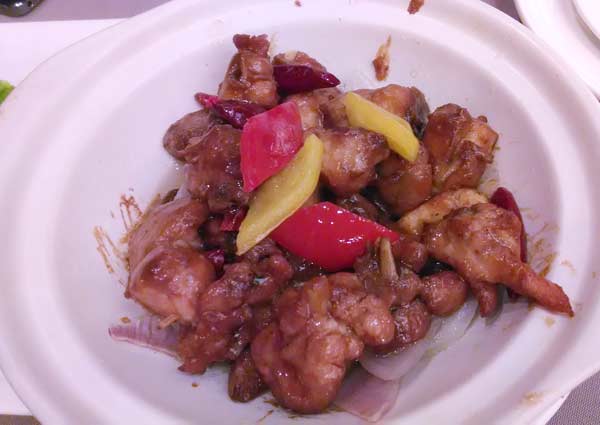 Diced chicken is cooked in soy sauce, garlic and bell peppers.
Seafood choices were limited to scallops, shrimp, prawns and abalone - grilled, sauteed and stir-fried.
Vegetarian options are plentiful and good: The stir-fried spicy eggplant with ginger, garlic and scallion is particularly tasty.
Before we moved on to the rice and noodles section and filled ourselves up with carbohydrates, we wanted another round of snacks. This time we chose the egg tarts, roast-pork pastries and wontons. Both, pastries and wontons were stuffed with minced pork and herbs.
I was expecting the restaurant to have some Cantonese-style noodles but what they had in this category were all Shanghai-style - fried noodles, stir-fried noodles and seafood noodles, all cooked and served with seasonal vegetables, scallions, soy sauce and meat or seafood. From the short list of carbohydrates, we loved the pancakes cooked with shredded scallions, though they were a little oily. These pancakes have recently gained popularity in Shanghai and are also called Pratas.
For rice lovers, Tai Sheng Yuan serves plain white steamed rice and (our choice) Yangzhou pork fried rice, cooked with shrimp, eggs, carrots and green peas. I loved the way this rice was served - it came in a tall bamboo container, not on the usual dish or bowl. Scooping out the hot and spicy rice was fun and it tasted superb.
We were too full for desserts, so we opted for one more round of green tea to finish our meal.
IF YOU GO
Tai Sheng Yuan
1112 Biyun Lu (Road), Pudong New Area, Shanghai. 021-5854-7869.
50 Huanghe Lu (Road), Huangpu district, Shanghai. 021-6375-0022.
Average cost per person: 150 yuan ($24).
Recommended: Pulled Pork in Spicy Sauce, Shredded Beef, Yangzhou Pork Fried Rice.