Fu Baoshi's 'Magnificent View of Maoshan Mountain' fetches $27m

Magnificent View of Maoshan Mountain [Photo provided to China Daily]
An ink-brush landscape by modern master Fu Baoshi (1904-65) was sold for 187 million yuan ($27.5 million)to a real estate developer from northwestern Gansu province at a Beijing auction Sunday night.
Magnificent View of Maoshan Mountain was completed in the traditional shanshui mountain-and-water-style just three months before Fu's death. The nearly three-meter-long painting depicts a grand panorama of the mountain, an important seat of Taoism that is located in the eastern Jiangsu province.
Fu also painted at the seat of the mountain and in between the dense forests many factories and towns that are being built. The work exemplifies his distinctive approach to hailing socialist construction, a major topic of the artists at the time.
Han Qing, chairman of Tian Qing Group Real Estate Company, acquired the painting to enrich the collection of Tian Qing Museum, an institution funded by the company.
Magnificent View of Maoshan Mountain is the third most expensive of Fu's output at auction.
The work is the top lot of Beijing Poly Auction's night sale of classic Chinese paintings.
In the same sale, Fu's ink-brush figure painting, Goddest (Shan Gui), fetched 64 million yuan.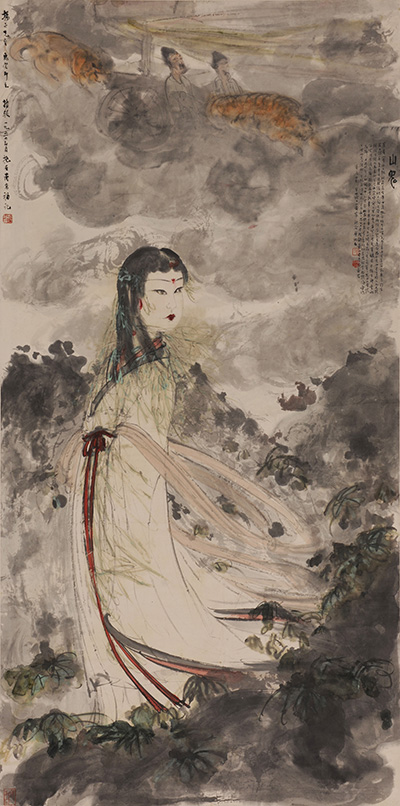 Goddest (Shan Gui) by Fu Baoshi [Photo provided to China Daily]
Related:
Top artists' works sell at Christie's HK auction