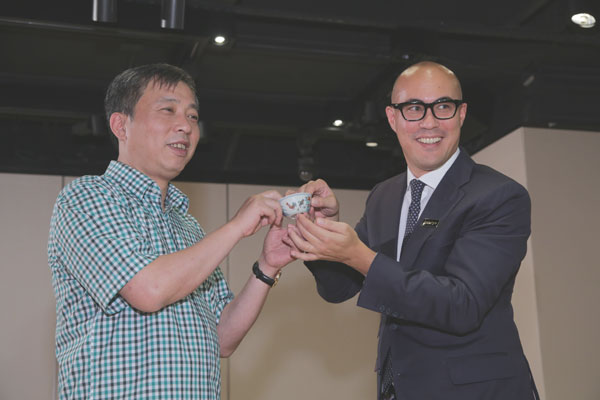 Liu Yiqian (left) receives the Chenghua chicken cup in Hong Kong. Photo provided to China Daily.
Liu Yiqian has yet to announce when the chicken cup - worth $36 million - will go on display at his private Long Museum, but the public has already seen plenty of the valuable porcelain.
Pictures of the Shanghainese millionaire happily sipping tea from the "holy grail" of Chinese ceramics have been widely published in China. He has been criticized for being "shallow" or "showing off", but others say he has every right to drink from the cup, after all, he paid dearly for it.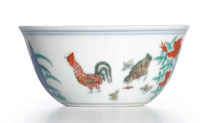 Liu, 51, ranked 200th on Forbes magazine's rich list in 2013. He bought the valuable cup by bidding over telephone at a Sotheby's auction in April, setting an auction world record for Chinese porcelain.
On July 19, Liu flew home to Shanghai with the cup after completing the transaction at Sotheby's in Hong Kong. The cup is stored in a bonded warehouse in the city's Xuhui district. It will be exhibited at the Long Museum later this year.
According to the auction house, Liu swiped his credit card 24 times to make the payment on July 18. It was reported that he will receive American Express Centurion card's reward points equivalent to frequent flyer's mileage of more than 28 million miles.
He drank tea from the valuable cup right after completing the transaction. He excitedly told the press that "emperors and their concubines may have drunk from it. I want nothing more than a touch of the magic breath".
The 8.2-centimeter-wide cup bears the image of a rooster and hen tending to their chicks. An estimated 600 years old, the cup is an example of the peak of ceramic art during the reign of Chenghua (1465-1487).