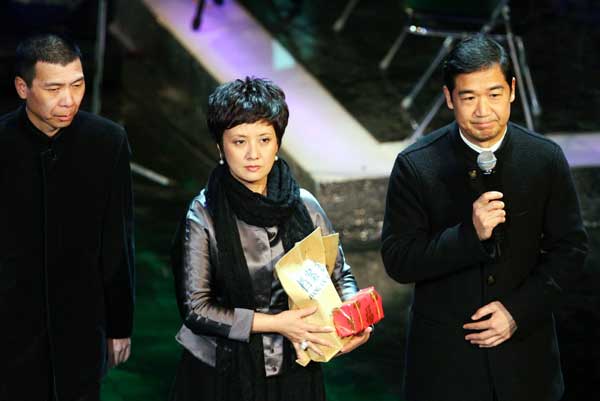 From right: Actor Zhang Guoli and his actress wife Deng Jie at a charity event held earlier in Beijing. The couple have donated 500,000 yuan to relief efforts in quake-hit Zhaotong city in Yunnan province. [Photo by Lu Xin/Xinhua]
Celebrities donate money, manpower to earthquake-relief efforts in Yunnan province, as China Daily reports.
Chinese celebrities have stepped forward to help victims of the devastating earthquake in Yunnan province. On Aug 3, a 6.5-magnitude earthquake hit the province's Zhaotong city - the most powerful quake to strike Yunnan in 14 years. Many celebrities have made donations to the victims and expressed their concern for people in the area through social media.
"What we can do now is make donations as soon as possible to contribute to first aid, and hope more and more people will be rescued before the night comes," Chinese mainland actor Huang Xiaoming says on his Sina Weibo.
More than 600 people have been killed in the disaster, according to the latest figures from local government. The earthquake is the third-deadliest in China over the past six years. Only the 2008 earthquake in Wenchuan, Sichuan province and the 2010 earthquake in Yushu, Qinghai province killed more people.
On Aug 3, as soon as Huang found out about the disaster, he donated 100,000 yuan ($16,233) to relief efforts. Pop singer Han Hong says on her Sina Weibo that a rescue team organized by her foundation went to the affected area with a nonprofit first aid organization, the Blue Sky Rescue Team, to help victims.
Han also wrote that her foundation would donate 1 million yuan to earthquake relief efforts. "Ludian, we are here to support you," Han says in the blog post.