Traditional style aims to capture beauty of nature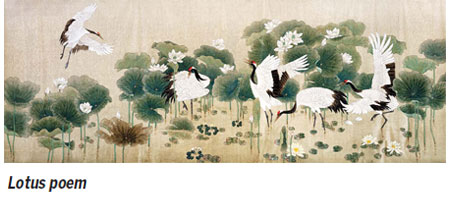 While the realistic gongbi style of traditional Chinese painting is generally considered to lack imagination and be less capable of expressing emotion than freehand brushwork, painter Yu Jigao said he disagrees.
"The two major genres share the same spiritual essence, which is the expression of the meaning and spirit," said the 81-year-old painter, considered one of the most outstanding living Chinese artists in the traditional painting style of gongbi, or bird-and-flower fine brushworks.
Gongbi paintings usually depict birds and flowers, symbols of beauty and joy, in an artistic way with intense color.
Although the style of painting is possibly more limiting than impressionistic forms, it still provides an opportunity for artists to fully express themselves by depicting the objects.
Growing up in rural Jiangsu province, Yu showed a strong interest in fine arts at an early age and continued to study on his own for years.
His hard work paid off later. In the early 1950s, he made his way to Nanjing Normal University, where he learned painting theories and techniques from some renowned artists. It was then that Yu found his lifelong passion for gongbi.
As an apprentice to the master Chen Zhifo, Yu developed his own style of art by inheriting the traditions of gongbi painting while learning from Chen.
He gradually refined his style by adding more vitality and grandeur to Chen's simple elegance.
After graduation from the art school in 1957, Yu began his professional career at the Chinese Painting Institute of Jiangsu.
He has since published a series of art collections. Since 1959, Yu has contributed a series of works for many important sites, such as Zhongnanhai, the traditional residential compound of Chinese leaders, as well as the offices of the State Council, Tiananmen Tower and the Diaoyutai State Guesthouse.
Yu's works have also been displayed in a range of national and international exhibitions. From 1986 to 1997, he held his exhibitions in such places as Beijing, Guangzhou and New York.
Both the themes and artistic techniques have won widespread praise in the past years. Yu's works tend to be more elaborate and decorative than many others of the same genre.
While observing traditional rules, he uses accurate lines, powerful brush movements, contrasting gradations of ink, space, as well as the interplay between dark and light to represent the harmony and vitality of nature.
Though he adopts a realistic style, Yu said he tries to imbue his work with eternal spiritual beauty through his brush.
"That feeling later turned into the images of chirping birds and elegant flowers in my paintings."
Thanks to his careful observation of nature and artistic sensitivity, Yu was able to combine realistic depiction with artistic expression in his brushwork.
Now as deputy director of the Academy of Chinese Gongbi Painting of Flowers and Birds and a national top-level artist, Yu maintains a simple and easy-going style.
In addition to artistic creation, Yu has devoted himself to promoting his painting style as a cultural legacy, including holding exhibitions at UN headquarters, publishing more than 100 million copies of painting albums and writing letters to state leaders calling for more support for the art.
"Art is part of my life," Yu said. "I am proud to be a flower-bird painter. I hope to create a bright future for it through my efforts."