BBC documentary reveals secrets of Forbidden City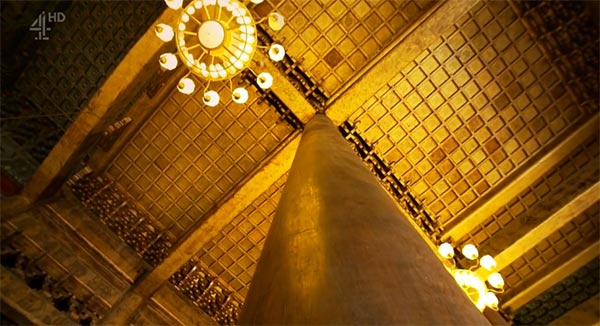 A nanmu column used in the Forbidden City. [Photo/Screen capture of Secrets of China's Forbidden City]
Shipping
Nanmu, the rarest of all Chinese woods, was widely used in the construction of the palace for its density and beauty. It is reported that some 10,000 nanmu logs were shipped from forests more than 18,000 km southwest of Beijing. Furthermore, golden floor tiles from 1,000 km south and 18 million bricks, each weighing 24 kg, also had to be transported to the capital, a task that seems unachievable in an unindustrialized world.
Ancient Chinese people had the wisdom to overcome that, through building the Grand Canal.
"The Grand Canal, which is both older and longer than the Panama Canal and the Suez Canal, solved a large problem of canal engineering at the time," said Jim Griffiths, a hydrologist.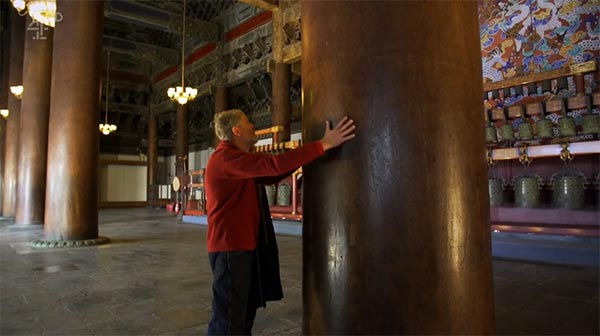 Nanmu columns used in the Forbidden City. [Photo/Screen capture of Secrets of China's Forbidden City]
The Grand Canal started from the commercial hub of Hangzhou to the south, passed tributaries of Yangtze and Yellow rivers and reached far north to Beijing. The nanmu logs were floated to Beijing along with a fleet of 20,000 barges with 200 million liters of grain to feed the one million workers each year.
But some materials were unsuitable to be shipped.