Japan's ballet troupe coming to China with 'The White-Haired Girl'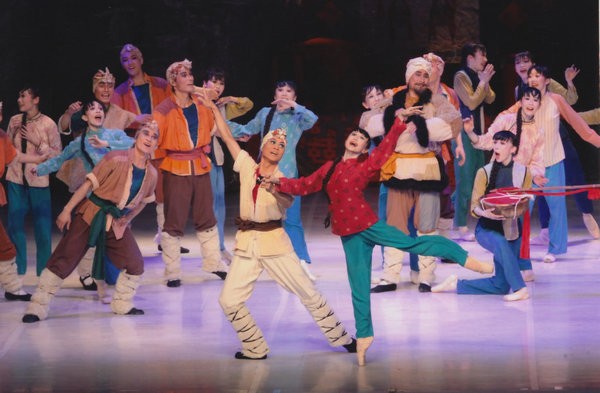 Japan's Matsuyama Ballet Troupe will tour China with its signature work, The White-Haired Girl. [Photo provided to China Daily]
In 1945, The White-Haired Girl premiered in Yan'an, a revolutionary base in Northwest China, as an original Chinese opera, causing a sensation.
Since then it has been staged many times as one of the country's most successful operas and has been adapted for the stage, cinema and TV. But it's little known that Japan's Matsuyama Ballet Troupe is perhaps the world's first ballet company to adapt the Chinese story. Its ballet The White-Haired Girl premiered in Tokyo in 1955 and was staged in China in 1958.
During the past decades, the troupe has visited and performed in China. In May, it will perform the ballet in Beijing and Shanghai, which will be the troupe's 15th tour in China.
According to Yin Jianping, director of China International Culture & Arts Company, co-organizer of the Matsuyama Ballet Troupe's China tour this year, the performances will also mark 45 years of the normalization of diplomatic relations between the two countries.
Besides The White-Haired Girl, the troupe has staged other classic ballets in China, such as The Nutcracker and Swan Lake.
Japanese ballerina Mikiko Matsuyama and her husband, Masao Shimizu, founded the troupe in 1948. Shimizu died in 2008.
The couple watched the Chinese film The White-Haired Girl in Japan in 1952, and choreographed a ballet based on it, taking inspiration from the film's portrayal of poor people's fight against oppressive landlords. The ballet premiered in Japan in 1955.
Three years later, the ballet was presented at Beijing's Tianqiao Theater, in a first for the company in China.
Set in the 1940s, the film tells the story of a poor young woman, Xi'er, whose father is beaten to death by a local landlord because he is unable to repay his debt. She is forced to work in the landlord's home but escapes to a mountain where she lives in hiding for years. Her long black hair turns white as she is unable to endure all the suffering. Eventually, she is saved by the Communist soldiers and reunited with her lover, Wang Dachun, who is a Communist fighter.