Martial arts giants unite in major production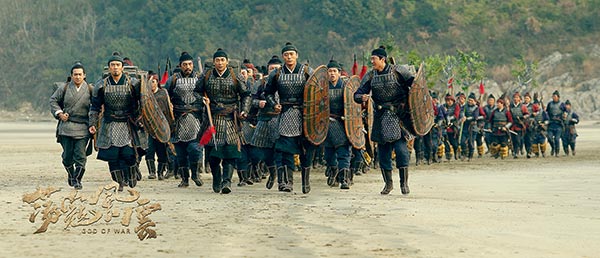 A scene from God of War. [Photo provided to China Daily]
The film is directed by Gordon Chan, a Hong Kong filmmaker known for his portrayal of Chinese heroes on screen.
Chan says he visited every battlefield Qi fought on and met historians to avoid mistakes.
"We want to show history rather than grab attention with exaggeration," says Chan. "The film is not about provoking an anti-Japanese mood but aims to promote peace. This attitude enticed Japanese stars to join the film," he says.
Japanese actor Ryu Kohata, who is known to Chinese for playing a villain in the Nanjing Massacre-themed film City of Life and Death (2009), and Yasuaki Kurata, a 71-year-old action-film veteran often seen in 1970s' Hong Kong films, are part of the cast.
Yu Dong, president of Bona Film Group, the production company, says: "We want to promote a film on patriotism that is also attractive to the younger generation.
"A few days after the premiere will be Children' Day (June 1). The film will show children that China has its superheroes, and that they are real."