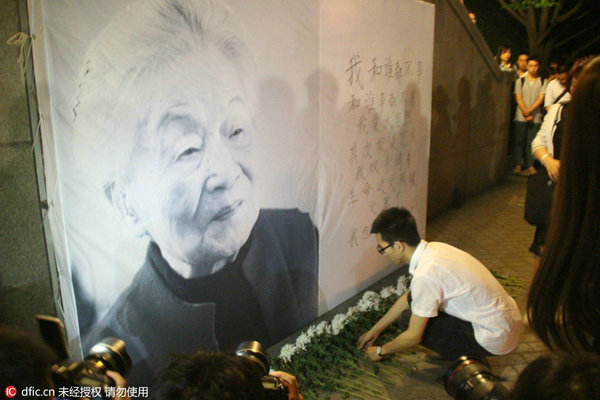 Students in Tsinghua Univeristy express their condolences at an image of Yang Jiang in Beijing, May 25, 2016. [Photo/IC]
WeChat and Weibo were flooded with tributes to the celebrated Chinese writer Yang Jiang who died at 105 in Beijing yesterday.
Many people expressed their condolences about the death of Yang by posting Yang's photos and quotations on the Internet.
"You three can finally get together in heaven," a netizen called "Vincent van Gogh has ears" said on the Sina Weibo.
Yang's husband Qian Zhongshu, one of the greatest scholars in China in the 20th century, passed away in 1998 and their daughter Qian Yuan died in 1997. Yang is the only one left. Her autography The Three of Us (Wo Men San) written when she 93, featured the three family members and moved readers deeply.
A Weibo user "lilyqwer702_983" said, "I started to read Yang's books when I was young. She is always so optimistic and her positive attitude moved me. She is my idol."
Yang Jiang was not only highly respected by her readers, but also her friends and other writers and scholars.
"To me, she is a magnificent lady of the 20th century. I rarely find anyone who can be as great as her in our time," said Ye Tingfang, a celebrated Chinese translator, also an old friend of Yang.
Ye, 80 years old, still remembers the first time he saw Yang in the summer of 1964.
"When I saw her, I thought she is a real lady. So elegant," Ye said.
Ye also thought highly of Yang and her husband's relationship.
"They are a good example of a perfect couple, affectionate to each other, and communicating like friends," Ye added.
Quite apart from her fame as a writer and scholar, Yang's soul shone while she was on earth.
Bai Ye, a literary critic, said, "She is straight. She will directly let people know who she likes or dislikes. To some extent, Yang is very innocent. When she aged, she was even a little childish."
The death of Yang surprised Bai, who visited her right before the 2016 Chinese Lunar New Year.
"At the time, her listening was not as good as before, yet her sprit was high as ever," Bai said.
Yang's death has prompted many to take up her books again.
18 prose works, 9 novels, 3 plays and 3 essay collections are her legacy to her readers and followers. Among her Chinese translations of 4 classic novels, Don Quixote de la Mancha is regarded as the best Chinese version of the Spanish classic.