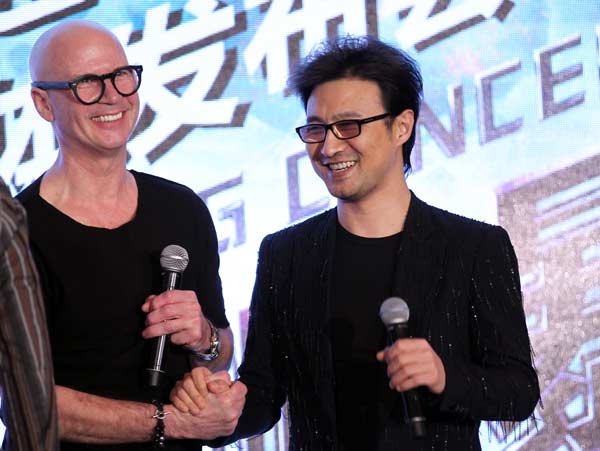 LeRoy Bennett joins Chinese musician Wang Feng's 2014-2015 tour. Zou Hong / China Daily
Veteran lighting designer LeRoy Bennett, who has worked with pop icons such as Prince, Lady Gaga and Nine Inch Nails since 1980, will join Chinese rock singer-songwriter Wang Feng's 2014-2015 tour.
The tour kicks off in Jiangsu province's Suzhou city today and heads to Beijing's National Stadium - aka the Bird's Nest - on Aug 2.
"I've always had this fascination about China since I was a little boy - especially the architecture and food," Bennett says.
"This is my first time working with a Chinese artist. So I am very excited to use all my vision about China in this production. I want this production to be something Chinese, rather than pushing a Western way. I added traditional Chinese elements, such as the moon gate and percussion instruments, which makes the production multipersonality."
Bennett learned Wang wanted him to join his tour when Bennett flew to Shanghai to see a friend in November 2013, while preparing for Paul McCartney's Japan tour. They met in Shanghai.
"I listened to his music, which was beyond my expectation," Bennett says.
"He is like a Western musician - blues, rock and all the Western influences. I am a big music fan. Though I don't know what he sings about, the feeling is right."
Bennett hopes to facilitate more international teamwork with Chinese artists.
Wang says he shares this aspiration.
"I've always had the dream to bring world-level designers to my concerts because I want Chinese audiences to watch a great show in China by a Chinese singer, rather than flying abroad to see Western stars or watching DVDs at home."