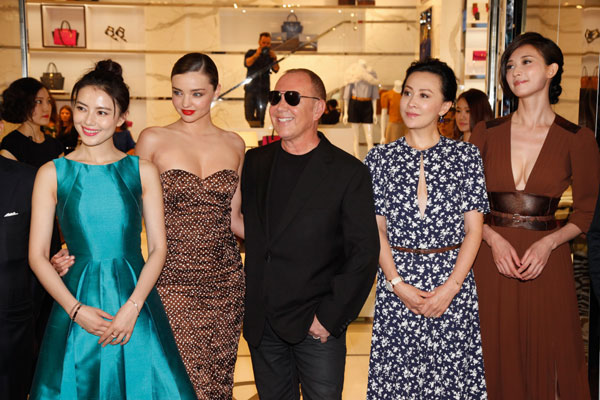 From left: Gao Yuanyuan, Miranda Kerr, Michael Kors, Carina Lau and Chilling Ling pose after they cut the ribbon at the opening of Michael Kors Kerry Centre Flagship store on May 8, in Shanghai.[GETTY IMAGES/MICHAEL KORS]
With music by New York-based DJ collective the Misshapes pounding through the speakers, 1,000 Chinese guests of Michael Kors were introduced to the brand's mesmerizing Jet Set Experience, which took place in a private 2,787-square-meter jet hanger at Shanghai Hongqiao Airport in mid-May.
Supported by a high-definition video projection system, the large-scale theatrical projections and lifelike illusions transported audiences to three signature scenarios - island escape, mountain retreat and big-city glamour. Models were dressed in bikinis, jumpsuits and nightgowns, all of which represent Kors' design vocabulary: sporty, sexy and glam.
As Chinese cities are becoming more metropolitan and a growing segment of the middle-class catches up with lifestyles, this sort of fashion philosophy is quickly adapting into local lifestyles. Since opening his first store in Tianjin in 2011, Michael Kors has brought his unique aesthetic to more than 15 Chinese cities.
"The people here are very stylish, savvy and energetic," says Kors. "And I adore how curious people are - always interested in what's next."
In May, the label's first flagship store opened at the Jing'an Kerry Center in Shanghai. In tribute to the city that Kors says opens one's eyes to the world, a limited edition Michael Kors Runway watch has been released, making Shanghai the third to have a city watch after New York and Paris.
The watch face is embossed with the word "Shanghai" in the upper middle and an auspicious red Chinese character for "eight" in place of the original Roman numeral. On the back is the city's futuristic skyline and a signature by Michael Kors himself.