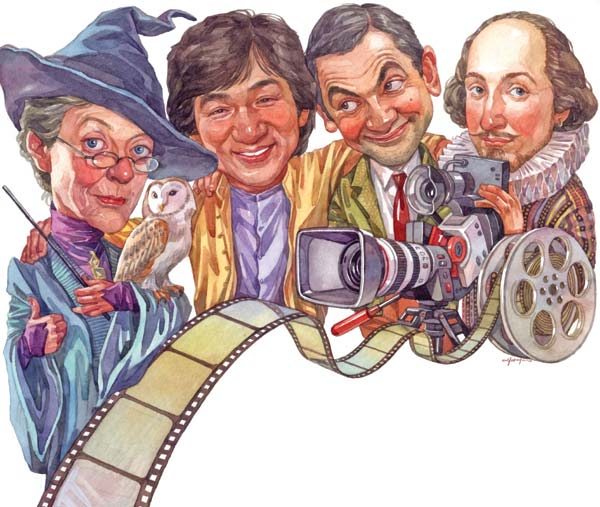 Li Min/China Daily
When two countries work together in an attempt to create a cinematic masterpiece, the results can be brilliant, but more often than not, fail to appeal to audiences across the cultural divide, Raymond Zhou writes.
Film co-production has become something of a holy grail, which many in the film industry relentlessly pursue yet few, if any, have attained. It is supposed to bring about an expansion of the market plus unquantifiable goodwill in cultural exchange. But the reality can be a different matter.
The road to co-production heaven is littered with dead bodies of those who had been tantalized by the prospect of mutually beneficial deals then devastated by mutual destruction.
In theory, a co-production, say, one between China and the United Kingdom, should appeal to filmgoers in both countries. The story should incorporate elements from both countries, such as a love story between a Chinese man and an English woman or vice versa, with some scenes shot in China and others in the UK. Ideally, both Chinese and English should be employed as languages fit for the occasion.
In reality, it is how a subject is portrayed on screen, rather than what is portrayed, that determines the outcome. The fusion vision goes fundamentally against the dictatorial nature of film directing. Unless a filmmaker is born in - or grew up with - two cultures, he or she can approach a story from only one cultural angle. Call it cultural sensibility.
American filmmakers can tell a Chinese story, such as Mulan or Karate Kid, and Chinese stories can be set in North America, such as Finding Mr Right (aka When Beijing Meets Seattle). While casting and language contribute to the final result, the cultural sensibility of the film storyteller determines the "nationality" of a film, so to speak.
The Last Emperor, directed by Bernardo Bertolucci of Italy, is a Chinese story set exclusively in China. Yet it was embraced in the West, winning nine Academy Awards. However, it had a lukewarm reception in the land where the story happened.
It was not just Peter O'Toole's role that provided a Western perspective. The tone of the whole film made this 1987 biopic an international film rather than a Chinese one. Partly frustrated with its Western perspective, Chinese filmmakers made a more "authentic" television series about the same subject shortly afterwards, and as you would expect, it failed to cross over into the international market.