The Chinese art of mythmaking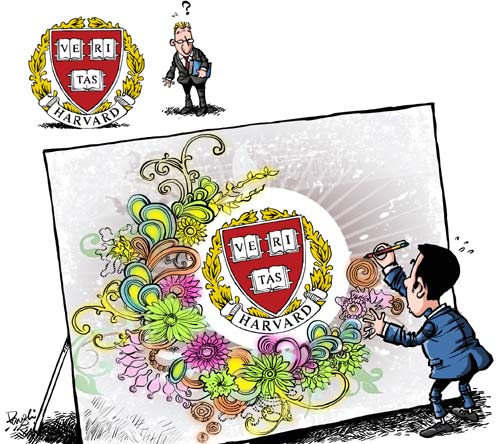 Pang Li / China Daily
An outsider's perspective is valuable. But even in this age of instant information the outsider could become a poster boy made malleable by preconceived perceptions and a thirst for contrast.
In the minds of most Chinese, the word "Harvard" is synonymous with educational excellence - to the point of overshadowing other equally top-notch Western institutions of higher education except maybe Oxford and Cambridge.
However, the Harvard in the Chinese imagination is not the Harvard by the Charles River in Boston. It is a myth shrouded in layers of cultural misperception. When I was a kid, a friend of my father's, one of the very few who had been to other provinces of the country, described Harvard as a school with very high walls, where students were not allowed to go outside during the four years of their study, not even when their parents died. They had to memorize tons of text from early morning until late at night.
Now that I recall it, the Harvard believed in by this relatively well-informed person (for that era) was a cross between an ancient Chinese school and a prison. Had he been shown the movie Love Story, which was made around the same time and was about a Harvard student, he would have been devastated: "What? A student could date and get married while in school?"
Even with China's opening up and with the growing exchange of information, some Chinese people simply cannot resist the temptation of molding China's favorite foreign university in our own image, which is essentially a school staffed by thousands of tiger moms. Thus were born the rumors about the 20 statements plastered on the walls of Harvard's library. The statements were said to include: "If you sleep now, you will have a dream, but if you study now, you will realize a dream"; "Even though happiness is not based on a person's performance records, success is the likely result"; and "If you study one more hour, you will have a better husband."
In 2012, The Wall Street Journal carried an article that quoted Professor Robert Darnton, who stated unequivocally: "As the university librarian, I can attest that no such writings exist on any of the walls at Harvard's 73 libraries."
The professor may not know that he has many phantom colleagues who have penned Chinese best-sellers.
There is a special section in China's publishing industry, usually operated underground and with retail outlets on sidewalks, that churn out many inspirational and how-to books.
For more X-Ray stories, click here