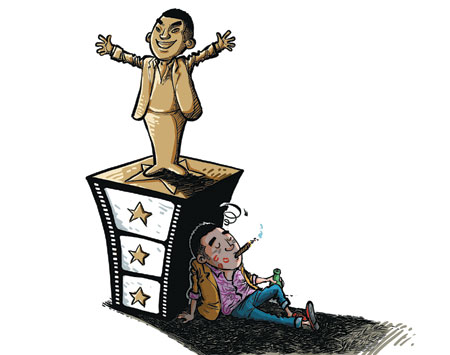 Pang Li / China Daily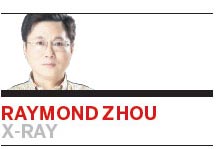 A carnival atmosphere in the wake of a showbiz celebrity's hanky-panky coming to light speaks volumes about the popular culture of the day and, of course, the slowness of serious news.
There is a joke going around town that Malaysia is being salvaged by a Chinese star whose extramarital affair has finally taken the heat off the airline mystery.
Wen Zhang, a 30-year-old movie and television actor, rose to prominence on his public image as a man of
responsibility. Barely two months after his second daughter was born, paparazzi caught him in compromising situations with Yao Di, a young actress who starred with him in a previous drama series.
The real-life drama played out like an episodic Chinese soap opera. On March 28, the editor of Southern Entertainment Weekly tweeted on her weibo (micro blog) that the magazine was to drop a big bomb in showbiz the following Monday.
Then there was gossip that representatives from the two leads in the affair were reaching out in a frantic attempt to hush up the revelation with big money dangled in exchange for the favor. But "No!" said the publisher, who suggested they were going to do the right thing and honor their reporters' hard work. Besides, it was too late to stop the press.
Episode 1 of innuendo escalated during the weekend to Episode 2 of anticipation. The suspense was quickly broken as the nation's online journalists took whatever tips they could get hold of and jumped to digging. The gist was, Wen had been seeing Yao when his wife was pregnant with their second child. Yao even moved closer to be their neighbor. Blurry photos of their secret rendezvous in Hong Kong surfaced, hardly conclusive yet tantalizing nonetheless. All kinds of theories were floated.
For more X-Ray stories, click here