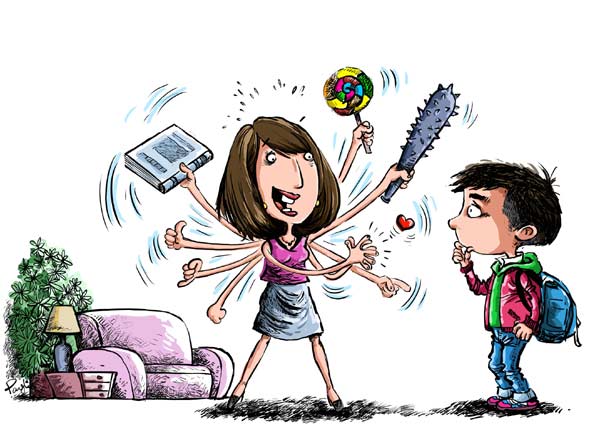 Pang Li/China Daily
When it comes to talking to youngsters, there may not be one good way that fits every situation. Cheering on is good, brutal honesty may also be necessary, but humor is always a good solution.
Conventional wisdom has it that Westerners are often straightforward while Chinese tend to beat around the bush. But conventional wisdom, being what it is, can generalize to the point of blurring cultural niceties. From what I can see, speaking your mind can be difficult in most situations regardless of the culture.
In a hierarchical society, it usually takes more skill from someone on a lower level to address someone higher up than the other way around. Even so, managers at various levels have learned to be positive and say, "You can do it better next time" rather than "You did terribly this time". Someone who is too blunt can hurt more than help things and, in a business environment, can cause extreme unpleasantness or even legal troubles.
Now, let's narrow our focus to the interactions of teachers or parents and the youngsters they need to educate. How direct can one in a position of such authority be while addressing someone under his or her care?
Xu Qunyi adopted an unconventional approach and ruffled quite a few feathers. The administrator of a Wuxi high school admonished his students at a recent flag-raising ceremony: "Your family is not rich and you still don't want to study? You don't have any background and you still don't want to study? You don't possess great looks and you still don't want to study? You're not smart and you still don't want to study? If you don't study, you won't be able to afford a ticket to see the stars you're chasing, or buy the food they taste in their hit shows."