New rules bring order to housekeeping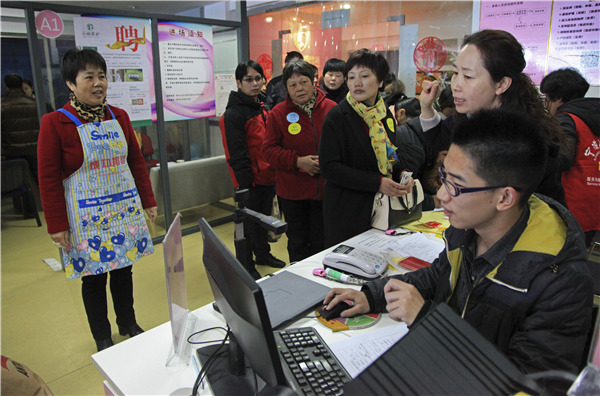 Housekeepers and nannies line up at a domestic service job fair in Ningbo, Zhejiang province, in February.[Photo provided to China Daily]
Domestic workers in China's financial capital are now subject to a code of conduct, as Zhou Wenting reports from Shanghai.
Last month, for the first time in the local industry's history, the Shanghai Changning District Homemaking Service Association released a 50-item code of conduct for housekeepers and nannies.
The code was introduced five days after a housekeeper in Hangzhou, Zhejiang province, was arrested for allegedly starting a fire in an apartment that killed a mother and three children ages 11, 8 and 6.
Breaches of the code range from having a criminal record to providing employers with false information, such as on resumes, health records or fake ID cards.
Those who attempt to break a contract to secure a pay rise or ask to borrow money from employers will also be blacklisted.
New employees registered with any of the more than 300 agencies for domestic workers represented by the association will need to provide proof of a clean criminal record via documents issued by the police department of their home region.
"The standards will be promoted citywide soon," said Zhang Baoxia, secretary-general of the Shanghai Home Service Industry Association.
The domestic worker in Hangzhou, surnamed Mo, was charged with arson and theft. Although she told police she was addicted to online gambling, her motive for allegedly starting the blaze remains unknown.
The incident caused a sensation because housekeepers are initially strangers to the families that employ them, but they usually have direct contact with all the members. In time, many become accepted as part of the family, Zhang said.
According to a poll conducted by the Family Development Research Center at Fudan University in Shanghai and published in December, about one in five families in Shanghai employ or plan to employ domestic workers or nannies. That's mainly because a growing number of couples are planning to have a second child, and also because China's population is aging rapidly and more people require care.
Complaints, constraints
Zhang said: "The fire prompted widespread discussion about the frustration of trying to find an ideal nanny who is always on time, is honest and can cook and clean professionally. We drew up the code of conduct to set more constraints on housekeepers, and raise service standards in the industry."
Most of the complaints agencies receive from clients are about housekeepers who fail to arrive on time, but leave before the end of their arranged working hours, and some of them "tend to dilly dally", he added.
Last year, when she became her elderly mother's full-time carer, Shanghai resident Chen Yan hired a housekeeper to clean for two hours a day. The housekeeper, who was in her 30s, was slow and unhelpful.
"She spent the second hour mopping the floors of my apartment, which has three bedrooms and two bathrooms. That was fine, but she was very slow and it seemed as though she needed a short rest after every single movement," said Chen, 57, a retired accountant.
"Moreover, she looked at the clock on the wall every five minutes to ensure she left at the exact minute the two hours expired."
Chen ended the woman's contract after a month.
Zhang said the number of complaints about other incidents, such as stealing, is relatively low.
Xia Jun, president of the Shanghai Changning District Homemaking Service Association, said the organization receives at least one such report from clients per month.
For four years, Zhong Ling, who lives with her husband and two children in Shanghai, hired a housekeeper to clean her home every day.
The arrangement worked well for a long time, but in May last year, Zhong realized that two of her dresses were missing. She didn't pay much attention until two more went missing three months later. After that, the thefts didn't stop. Instead, they became more frequent.
In November, Zhong couldn't find a necklace she had bought, but had never worn. She had placed it in a jewelry box in a drawer.
"I asked the nanny if she had seen the necklace. She suddenly became very angry. She shouted, "You cannot doubt me. My job is not of high rank, but you must not insult me," said Zhong, a 46-year-old homemaker.
However, a week later, the housekeeper asked whether the diamond on the necklace was real.
"That was illogical because I don't think she had seen the necklace, so she wouldn't have known there was a diamond on it," said Zhong, who admitted that she doesn't like to find fault with others.
As she didn't have hard evidence that the clothes and the necklace had been stolen by the domestic worker, she was prepared to let the matter ride.
"But the maid's attitude toward us quickly deteriorated, and she didn't take the job as seriously as before. I thought it was her way of manufacturing an excuse so we could fire her. As a result, I ended her contract," she said.