Expats pay more and are thoughtful employers
Xia Jun, president of the Shanghai Changning District Homemaking Service Association
I started my career in the field of domestic work by opening an agency in Shanghai in 2000, specializing in helping expat families find local nannies. Through the experience, I discovered that local employers can learn a lot from their expat counterparts.
Expats make the rules pretty clear before the employment relationship begins. They tell the candidate how big their apartment is, how many bedrooms and bathrooms it has and how many people are usually in the family home.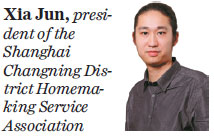 That is important, but Chinese employers almost always just provide the same remarks: 'There are just a few people in our family, and the housework in our home is very simple.'
That's actually unhelpful for a positive two-way selection and could complicate what should be a cooperative relationship between the two sides in the future.
Usually, Chinese employers make sure the housekeeper fully understands most of the living habits of the family on the first day. That may include things such as what they like or dislike eating, the specific brands of cheese and yogurt to buy, and how they want their shirts ironed.
Expats show more respect for rules and contracts. When a nanny works for them, they are usually very nice to her. But if they find her behavior inappropriate, they talk to the agency directly and suggest discontinuing the employee's contract, instead of talking to the nanny herself.
Expats treat nannies and domestic workers more like employees of a company, providing benefits such as annual leave, usually in summer or around Christmas when the family travels overseas. They pay at least 30 percent more than local families because they have higher requirements in terms of appearance, educational background and spoken English.
Housekeepers from the Philippines are famous for their professional ethics, good manners, outgoing personalities and strong sense of service. Those attributes are warmly welcomed in places such as the United States, Singapore and Hong Kong.
We have invited a housekeeping trainer from the Philippines to give our employees a series of lectures related to refined, professional services, from house cleaning to playing with the children and walking the dog. She will arrive later this month.
Xia Jun spoke with Zhou Wenting.