Flame of Chinese National Games lit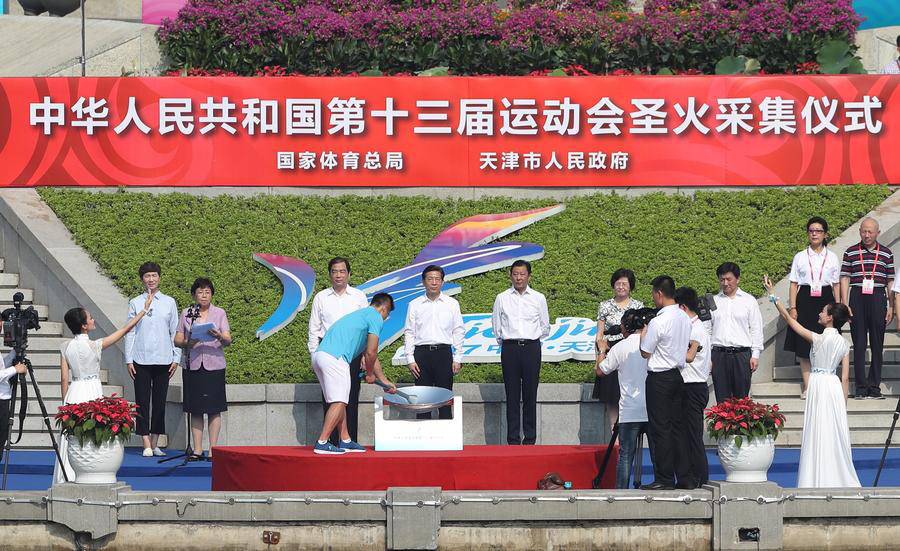 Lyu Xiaojun, 2012 Olympic weightlifting champion, uses a concave mirror to focus the sun's rays to light the torch for the 13th Chinese National Games in Tianjin, Aug 6, 2017. [Photo/Xinhua]
TIANJIN -- The flame for the 13th Chinese National Games was ignited by 2012 Olympic weightlifting champion Lyu Xiaojun on Sunday in Tianjin.
Under a clear sky, Lyu used a concave mirror to focus the sun's rays and light the torch at a ceremony held at the Siyuan square, located at the Sanchakou of Haihe River which is considered the origin of Tianjin.
The flame then was transferred into a specially made lamp and will be kept in the lamp before the torch relay starts on Tuesday.
China introduced torch ceremony into the National Games from the fourth edition in 1979 and from then on, this ceremony has become an important part of the Games.
The 13th Chinese National Games will take place in Tianjin from August 27 to September 8. Nearly 10,000 athletes will be competing in the quadrennial event.