Gatlin stuns Bolt to win 100m world title, Su finishes 8th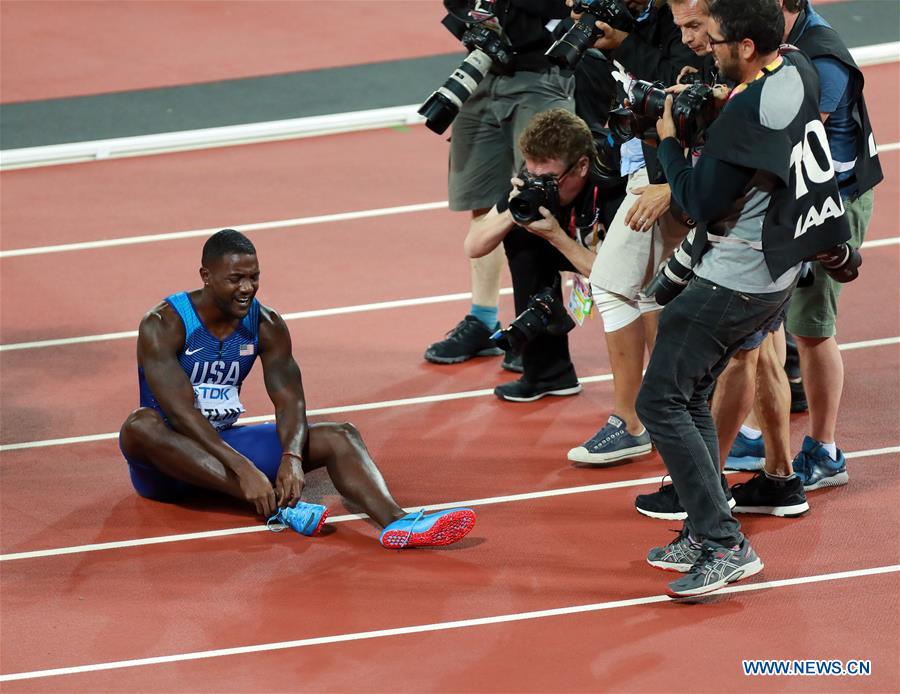 Justin Gatlin of the United States reacts after men's 100m final of the 2017 IAAF World Championships at London Stadium in London, Britain, on Aug 5, 2017. The 2005 world champion Justin Gatlin staged by far the biggest surprise of the London world championships as he edged defending champion Usain Bolt to take the world title on Saturday. Gatlin became the most subdued world champion when he came back from behind to win in 9.92 seconds. [Photo/Xinhua]
LONDON - Justin Gatlin ruined Usain Bolt's farewell party when the 35-year-old American won the world 100 meters title on Saturday, beating the Jamaican superstar into third and sparking a chorus of boos from a London crowd unhappy with his doping past.
What was meant to be a glorious celebration of the departure of the sport's greatest showman turned into a condemnation of its biggest pantomime villain as Gatlin, twice banned for drug offences, rolled back the years to win a second world title 12 years after his first and 13 after claiming Olympic 100m gold.
As so often before Bolt made a terrible start but for once could not make it up as Christian Coleman, the 21-year-old American who beat him in the semifinals, looked set for victory.
But Gatlin, who stumbled at the death to lose the 2015 world final to Bolt by a hundredth of a second, on this occasion timed his surge and dip to perfection to win in 9.92 seconds.
Coleman, who has run over 40 races this year but turned professional only a few weeks ago, took silver in 9.94.