Gatlin stuns Bolt to win 100m world title, Su finishes 8th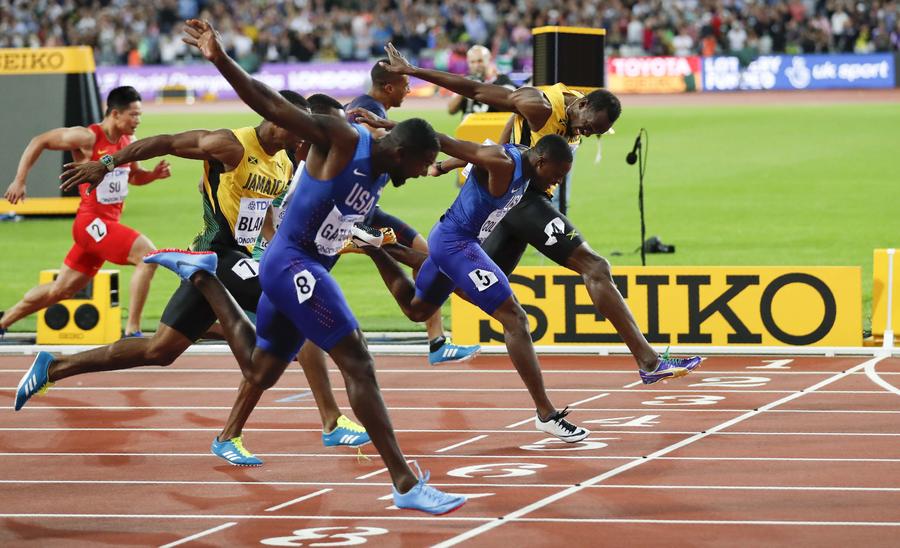 Usain Bolt of Jamaica, Justin Gatlin of the US and Christian Coleman of the US compete in the men's 100m final during the World Athletics Championships at the London Stadium, London, Britain, Aug 5, 2017. [Photo/Agencies]
Bolt, straining every sinew, fought all the way to the line but the pace and grace that took him to his world record of 9.58 eight years ago has withered with age and perennial injury battles and this time he ran out of track.
"It's just one of those things," Bolt said. "My start is killing me. Normally, it gets better during the rounds but it didn't come together."
When the results flashed up on the giant screen the crowd immediately began repeating the booing with which Gatlin's name had been greeted since the heats on Friday.
Perhaps unsurprisingly, his first response was to put his finger to his lips to indicate silence.
The crowd reacted by chanting Bolt's name and the Jamaican hugged Gatlin and told him he did not deserve the disrespect.