Moon rises when textbook least expects it
An astronomer in Shanghai has voiced his concerns over an exercise in a science textbook that requires primary school students to document their observations of the moon.
In Summer Vacation Life, published by Shanghai Educational Publishing House, first-grade students are required to observe the shape of the moon between 7 pm and 9 pm for 28 consecutive nights.
But Tang Haiming, secretary-general of the Shanghai Astronomical Society, said the task is misleading because the moon rises at a different time every day.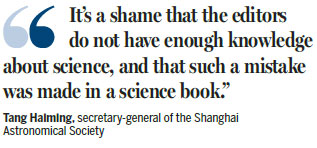 For example, people living in Shanghai were able to see the moon rise at 9:04 pm on July 12 and set at 7:32 am the next day. On July 13, it rose at 9:42 pm and set at 8:32 am the next morning.
Students were also asked to leave the space empty if rain or clouds prevented them from seeing the moon. They were required to guess the shape of the moon later based on their observations during the 28 nights.
Tang said this may mislead the students, who might think the reason they could not find the moon between 7 pm and 9 pm was bad weather, instead of the fact that the moon actually rose after 9 pm.
"It's a shame that the editors do not have enough knowledge about science, and that such a mistake was made in a science book," said Tang, adding that the mistake was due to the education system that doesn't focus on detailed scientific knowledge.
The publishing house could not be reached for comment by publication time.
Tang said that a representative from the publishing house has contacted him, telling him that it was organizing a group of experts to re-examine all science-related subjects in the book, and was studying how to improve students' interest in science.
Some parents in Shanghai said even many adults would not have noticed the moon mistake.
"I helped my child observe the moon every day, but I didn't realize that the moon can't be seen on some nights during the specific time slot because it rose at a different time," said Wang Shanshan, a mother of a first-grade girl in the city's Xuhui district. "I was ashamed because I thought it was due to the weather conditions."
Wang suggested that the school organize a one-day field trip to an observatory in Shanghai to increase students' interest in astronomy.
He Qi contributed to this story.