Villager hero to US leukemia patient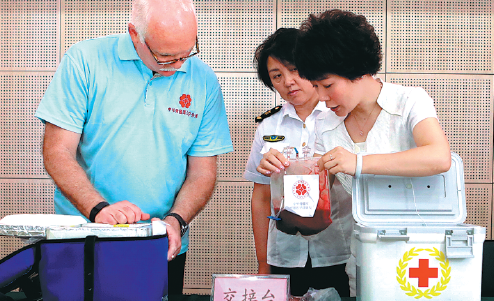 Robert Panza of the US marrow donor program accepts Zhao Yuedong's marrow on Tuesday from Li Mu, director of Liaoning branch of the donor program. Zhao, 39, wrote to the recipient, "Don't be afraid... remember, I'm here with you." Photo by Jiang Meng/For China Daily
Zhao Yuedong, a 39-year-old villager from Liaoning province, became a hero to a leukemia patient in the US city of Los Angeles when he became the first international bone marrow donor from Shenyang on Tuesday.
"Hello, brother from another land. It's lucky that our bone marrow matches. Don't be afraid of the illness and remember, I'm here with you. I will help whenever you need," Zhao wrote in a letter that will accompany his marrow, which contains hematopoietic stem cells.
Those are immature cells that can enable leukemia patients to regenerate healthy blood cells. The marrow is usually harvested under general anesthesia using a needle inserted into the hipbone.
Zhao, a villager from the southern outskirts of Shenyang, began donating blood in 2000 and registered as a marrow donor in 2013.
Last year, he received a phone call from the China marrow donor program's Liaoning branch and was told that his blood matched a US patient. He was asked whether he would agree to donate.
"The patient will definitely need my stem cells. It would be nice to save a person," Zhao recalled thinking.
Bone marrow transplantation is the last chance for survival for some leukemia patients. The probability of a blood match between two unrelated people can be as high as one in 1 million, according to Li Mu, director of Liaoning branch of the donor program.
After half a year's preparation, the collection operation was conducted at the PLA 463 Hospital.
"My son said he thought his father was very glorious and handsome," Zhao said after the procedure.
Wang Hongmei, hematology director of the Shenyang-based hospital, called the procedure challenging because the marrow must be delivered in 48 hours and the distance to the patient is great.
Robert Panza, a volunteer from the US marrow donor program, was expected to arrive with Zhao's marrow at 6 pm Tuesday local time.
"This is the first international donation case conducted in Shenyang. It also opens the door of life to international donations from Liaoning," said Li Mu.
wuyong@chinadaily.com.cn