New rules bring order to housekeeping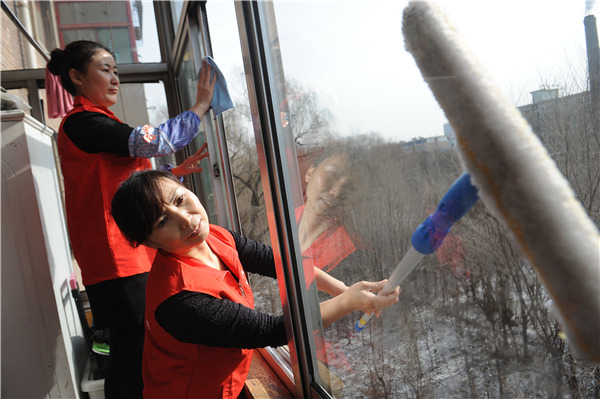 Housekeepers clean windows on a building in Taiyuan, Shanxi province, in January last year.[Photo provided to China Daily]
Solutions
Xia said his association consulted more than 100 agencies before it drew up the code of conduct to ensure the document was as practical as possible.
"For example, checking cellphones or making three-minute calls while working is heavily discouraged, and that sort of behavior while cooking or looking after a baby is completely banned because it can be very dangerous," he said.
He suggested that clients who suspect their housekeeper of stealing should report their suspicions to the police: "If you ignore their misbehavior, they may become greedier next time."
He also suggested that clients who give money to the housekeeper to buy groceries or other items should check how the money is spent because the association often receives complaints such as, "The housemaid used to be able to buy us three days' food with 200 yuan ($30), but now she cannot buy two days' food with the same amount."
However, employers rarely ask for receipts.
Xia urged clients to refrain from raising their housekeeper's wages without consulting the association.
"When housekeepers gather together, the most important thing is showing off how much extra money their employers give them and how easy their work is. We don't want employers to reward or punish people privately, because that may affect wages and the domestic's attitude to work," he added.
Luo Haoyun, a supervisor at Domo, an agency for domestic workers in Shanghai, said clients should always use reliable agencies because they insist on a probation period for candidates.
"Domestic workers usually live in dormitories arranged by the agency, so their words and behavior can be observed. They are assessed based on the initial reactions of their clients before they are officially employed," he said.
According to Luo, smaller agencies don't have those rules. Moreover, they provide opportunities for every worker on their books to earn more in brokerage fees, and many exaggerate candidates' work experience to win clients.
"I wouldn't suggest looking for a domestic worker online either, because some websites don't bother to verify the job seeker's information," Luo said.
Despite the impression given by recent events, most domestic workers and nannies are reliable and trustworthy.
Lu Yan, a journalist in Shanghai, hired a nanny when her daughter was born a year ago.
She is delighted with the service she has received.
"She always helps me before I ask. She is very nice to us, especially the baby. Whenever her family brings eggs laid by the hens they raise in the countryside, she brings all of them for my baby girl," the 31-yearold said.
"I'm sincere and lenient with her. When she broke a mug, I said, 'Never mind. Everybody makes mistakes'. Mutual respect is always the best approach."