Safety awareness vital for students overseas
Educators and security specialists have urged Chinese students overseas to hone their safety awareness after recent tragedies involving Chinese citizens abroad.
With suspect Brendt Christensen charged with kidnapping visiting scholar Zhang Yingying, alarm bells have been going off over the safety of students whose native country is the world's largest source of international students.
Cultural differences and an unfamiliar environment make it crucial that Chinese students studying overseas stay alert on potential security risks. Those already overseas and those planning to go abroad need to learn to protect themselves properly, consultants said.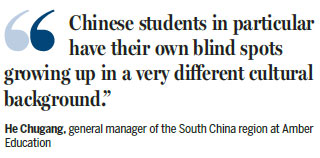 "Without knowledge about their new surroundings, international students often don't have the same common sense about safety and self-protection that locals do," said He Chugang, general manager of the South China region at Amber Education, an overseas-study consultancy.
"Chinese students in particular have their own blind spots growing up in a very different cultural background," He said. "They should remain aware of potential threats such as strangers offering to free rides, or hanging out late in chaotic places and meeting strangers alone."
The disappearance of Zhang, a student from Fujian province at the University of Illinois at Urbana-Champaign, underlined He's con-cern. She disappeared on June 9 after climbing into a car allegedly driven by Christensen, the FBI said.
Over a month later, missing Chinese sisters Chen Baolan and Chen Baoling, graduates of a local vocational school in Yokohama, were confirmed dead by Japanese police. Their bodies, stuffed in suitcases, were found in a remote area. A Japanese man in his 30s is a suspect. He was caught on a surveillance camera at the sisters' apartment in Yokohama before they went missing, police said.
Such incidents should prompt families, schools and agencies to strengthen security education for students overseas, said Tian Wang, a consultant at Vision Overseas, part of New Oriental Education and Technology Group. "A vital lesson is to understand the general social environment of their destination countries, surroundings of apartments, colleges and transport hubs as well as the legal system," said Tian
Tian also said students should pay closer attention to safety notices issued by their schools through emails and participate in routine security drills.
"They might easily neglect those tips if not fully aware of the fact that real risks exist," he said.
China had 1.26 million students abroad as of the end of 2015 - 25 percent of the world's total, according to the 2016 Report on the Development of Chinese Students Studying Abroad.
Young Chinese should keep a low profile and avoid flaunting wealth abroad, said Wang Dawei, a crime researcher with the People's Public Security University of China.