Insurance move gives farmers a harvest of renewed hope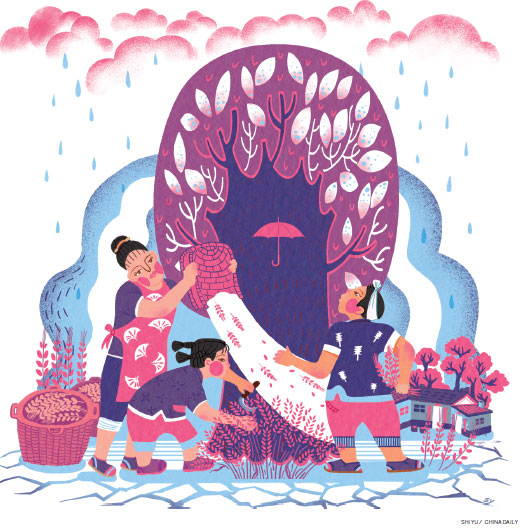 New measure will see greater certainty in financial planning and remove elements of fate
As a traditional Chinese saying goes, "Farmers mainly depend on heaven or the weather for food."
Areas hit by severe disasters can see their whole year of hard work swept away.
To combat the winds of fate, the upcoming policy to establish an agricultural insurance system in piloting regions will soon help farmers to tackle the uncertainty.
The State Council's executive meeting on April 26 decided to push forward government implementation of the system by launching pilot zones to improve the overall disaster insurance in agriculture.
This aims to further enhance insurance in the agricultural sector to boost supply-side reform in agriculture and increase farmers' incomes.
According to a statement after the meeting, disaster insurance will be provided in 13 major grain-producing provinces, with insurance covering material costs and land rental impacted by disaster. Meanwhile, the government will also increase the subsidy for insurance payments in the pilot counties.
Zheng Fengtian, professor of agriculture and rural development at Renmin University of China, believes this insurance subsidy will encourage farmers to boost output due to the greater financial security.
"Previously, when a region's farming land was hit by natural disasters, farmers largely depended on government subsidy to compensate their loss," Zheng explained.
"Now, as 13 piloting regions will be covered by the government-backed insurance, this means financial subsidies for farmers in case of disasters will be more systematic, and the amount of insurance payouts will be evaluated in a more professional way."
Farmers, he added, will no longer be burdened by worries over natural disasters.
Zheng said that as most commercial insurance is profit-oriented, losses incurred in case of disasters have long become a tough balancing act between insurance groups and the government.
He believes the move will encourage farmers to grow more, especially grain, because profits in cultivating grain was traditionally much lower than for cash crops.