Judicial assessment industry faces major shakeup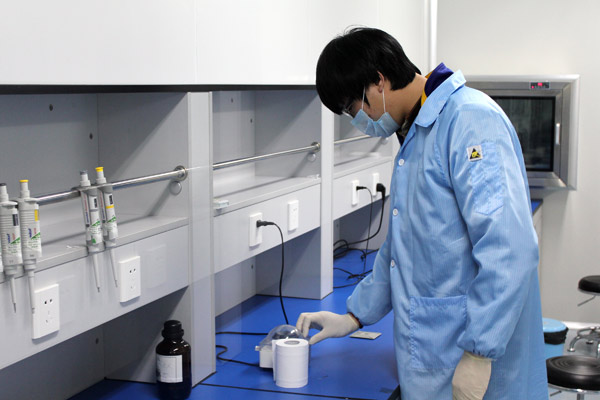 An employee assesses samples at an authentication institute in Beijing.[Photo by Wang Zhuangfei / China Daily]
Exorbitant fees and poor standards will be eradicated in a bid to improve the services offered by private verification institutes. Cao Yin reports.
Third-party judicial appraisal institutes face strict new regulations after a businessman sparked a social media storm by posting details of the sky-high fee he was charged for verification of evidence required for a court case.
"I was shocked when I was told it would cost more than 170,000 yuan ($24,630) to verify a signature, a fingerprint and two company stamps for a civil case," He Xianxiang said.
In China, privately operated third-party appraisal institutes are often employed by litigants in civil cases to assess the authenticity of documents - including handwriting, official seals and fingerprints - and submit reports to courts as evidence.
The 47-year-old entrepreneur, who runs several companies in Sichuan province, refused to pay the fee, and with the help of his lawyer, Wang Wanqiong, he posted the story on social media.
When contacted by China Daily, the institute declined to discuss the dispute, which is ongoing.
He's post not only triggered public outrage, but also attracted the attention of the Ministry of Justice, the country's top authority on the management of expert testimony provided by private institutes.
In March, during the two sessions, the meetings of China's most-important legal and political bodies, Zhang Jun, the minister of justice, pledged to overhaul the industry.
Zhang confirmed that some private institutes overcharge clients and many are poorly managed. He said those factors have prompted the authorities to strengthen supervision and raise qualification thresholds for expert witnesses who testify in courts.
"We're building a unified system to manage the industry, and plan to establish an association to ensure the quality of appraisals and improve discipline within the sector," he said.
Lack of legality
Wang, He's lawyer, praised the minister's response and called for greater regulation of the industry. She added that the 170,000 yuan appraisal fee was based on a price standard issued by the ministry in 2009, but abolished last year.
Though the ministry ordered appraisal institutes nationwide to release new price standards before May last year, 17 regions and provinces, including Sichuan, have yet to comply, according to Wang: "In other words, there is no legal basis for their work at present."
The institute's original fee was much higher than 170,000 yuan, according to He: "At first, I was asked to pay 230,000 yuan. That's crazy. I never thought authenticating my fingerprint, signature and two stamps would be so troublesome."
Appraisal fees are often calculated according to the amount of money involved in a civil case, but sometimes the number of documents that require verification is also used as a basis, he added.
Wang said: "Irrespective of how the fee was calculated, there was no cap."
Last month, the ministry responded, and regions without price standards were ordered to formuate new ones and set price ceilings before June.
The size of the fee led He to conduct his own research into pricing. He discovered that in Beijing and Shanghai - which have unveiled new price standards - he would have been charged no more than 70,000 yuan.
"I'm waiting for the new price standard in Sichuan. I'm hoping it will bring good news," he said.