Stricter regulation is urgently needed
After graduating from college in 1985, I started work in the evidence identification department of the Public Security Bureau in Jinhua, Zhejiang province.
I really loved the work, which is why I decided to take a job with a third-party judicial appraisal institute in the province when I retired in 2014.
My hours are 8:30 am to 5 pm every weekday, but most of the time, I don't get home on time, especially if I accept an important case or if the evidence is hard to verify.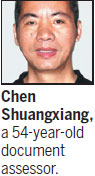 My job is to assess evidence related to documents, such as whether two samples of handwriting are by the same person, and distinguishing real signatures from false ones.
The work is important because it can make or break a case. Sometimes, it is the strongest evidence in a litigant's favor.
I once dealt with a case in which a man refused to return 100,000 yuan ($14,500) he had borrowed because the contract didn't have a signature or details of the amount loaned. When we scrutinized the document with high-precision equipment, my colleagues and I realized the man had used a pen with special ink that evaporated and left no visible signs.
As a result of our work, he was ordered to repay the money.
At times like that, when my efforts help to solve a dispute, I feel a great sense of achievement and forget all the difficulties, such as how much time and energy I have expended and the piles of materials I have reviewed.
I don't deny that there are problems in the profession, including the wide fluctuation in fees across the country and unregulated methods of assessment.
I agree with plans to regulate the industry. It's imperative that we improve the accuracy of the equipment we use so assessors can play a bigger role in solving court cases.
Chen Shuangxiang spoke with Cao Yin.