Beijing likes shared bicycles-however ...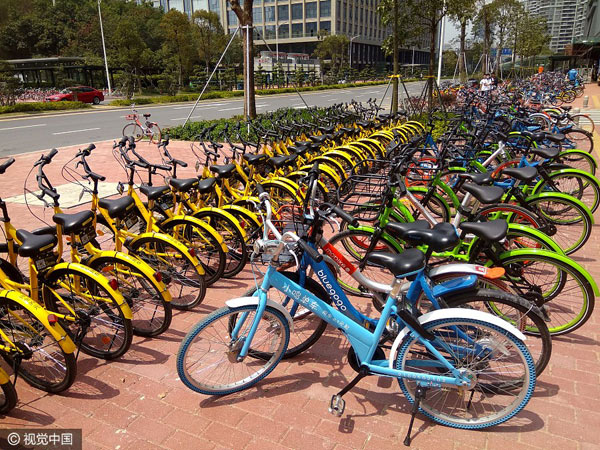 Various bicycles are parked at a subway entrance in Shenzhen, Guangdong province, April 4, 2017. [Photo/VCG]
Proposed regulation for managing clutter put out for public comment
Seeing the boom in the bike-sharing business, along with the resulting clutter created by randomly parked bikes, the Beijing municipal government has published a draft guideline for public comment, the top transport official said on Sunday.
Zhou Zhengyu, director of the Beijing Municipal Commission of Transport, said that while the city will control the growing number of shared bikes from different companies, it will not impose a numerical cap. Instead, it will let each district government decide its own limit, taking public needs into consideration, as well as the development needs of the companies.
"People in Beijing have accepted the shared bikes well," he said. "This green transportation method has motivated more people to start to ride."
Having seen the popularity of the bikes, the authority decided to suspend the expansion of government-backed public rental bikes.
"The shared bikes from private companies clearly have advantages compared with the public bikes, even though the frequency of public bike use hasn't been affected much by the shared bikes," Zhou said.
Beijing has 86,000 public rental bikes, stationed mainly near subway stations and residential communities, commission figures show. Because the public bikes have immovable racks on which bikes must be locked, many prefer the shared bikes, which can be picked up and parked at the rider's convenience.
At present, Beijing has 700,000 shared bikes from companies including ofo, Mobike and Bluegogo. There are about 11 million registered users, equivalent to nearly half of Beijing's population, the commission said.
The rapid growth started in August, and has created a few issues, like overcapacity and traffic disorder. Some users leave bikes randomly without obeying the regulations. And some companies put huge numbers of bikes on the street to protect their market share.
The Beijing guideline asks each district government to set a maximum number of shared bikes, then provide that to departments responsible for regulating the companies. It also requires companies to use technology to strengthen the management of illegal parking, in addition to ensuring the mechanical safety of the bikes by conducting regular tests.
Users who park illegally several times would be blacklisted, and companies would be barred from providing service to anyone on the list.
Lin Lei, 30, a regular user of the shared bikes, said he believes a better-regulated industry will raise the satisfaction level of users.
"In some places, shared bikes create a mess-piles of bikes-because people just throw them after use," he said.
Yin Dafei, chief scientist in Mobike's big-data department, said the company has technology that can predict the parking patterns of shared bikes, which will help it to organize them and raise the company's operation efficiency.